Roofs commonly are built in one of two varieties: sloped and flat; although, a flat commercial roof is not 100 percent flat. The gentle, two-percent slope is hardly visible but necessary for numerous practical reasons. When it comes time to choose a business property, consider the advantages of a flat roof versus those of a sloped roof.
All of the following factors will determine whether sloped or flat roofing is most suitable for your commercial building: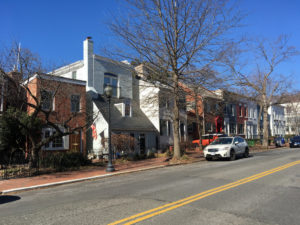 Roofing materials
Weather
Peaks and Valleys
Green building
Space
Cost
Roofing Materials
Business owners seek longevity in their business—and a viable commercial property will help indefinitely to accomplish that goal. Flat roofs certainly see less productive years than sloped ones. The variety of building materials used in sloped roofs helps to prolong its life.
Sloped roofs typically use shingles from all of the following materials:
Composition
Dimensional
Tile
Concrete
Wooden
Flat Roof Advantage: Concrete, tile and wooden shingles typically last significantly longer than the materials used in building flat roofs.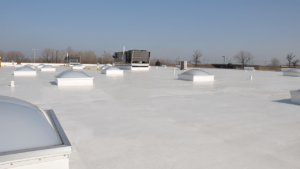 Flat roof typically use materials from all of the following:
Single-ply
Built-up
Spray paint
Paint
Flat Roof Advantage: Flat commercial roofs built with these materials are extremely durable and energy-efficient, making them competitive with materials used to build the traditional sloped roofs.
Weather
Sloped Roof Advantage: Weather is an important and influential factor when it comes to sustaining the lifespan of a roof. Sloped roofs are built so that rain, hail, and snow drain off the slopes effortlessly. In flat commercial roofs, however, this advantage is practically non-existent, leaving the roof vulnerable to adverse weather conditions. The continuous flow of elements like snow, water and ice takes a disastrous toll on the life of a flat commercial roof, reducing its lifespan significantly.
Flat Roof Advantage: Recent developments in building materials used in flat roofs have improved the ability of flat roofs to withstand weather. Polyvinyl Chloride (PVC), for instance, is a single-ply membrane that can be used nowadays as a waterproofing surface. The formula used to develop PVC ensures it stays intact in a variety of severe weather conditions, including wind, sun, rain, snow and hot and cold temperature fluctuations. Other newly developed membranes can compete with PVC, but PVC remains the most durable material to date.
The accumulation of moisture on PVC roofing rarely penetrates, due to the hot-welded seams that never break apart. PVC roofs are also extremely difficult to puncture. PVC materials can last 25 years on a commercial roof.
Peaks and Valleys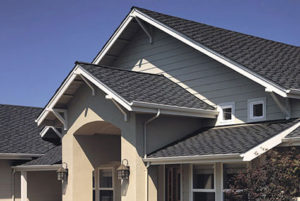 Sloped roofs feature peaks. Commercial roofs would require a huge and impractical peak or a series of peaks, due to the sheer size of the roof. As a result, experts say, smaller buildings are better suited to feature sloped roofs. Plus, any roof work is much safer to perform on a flat roof than attempting to securely maneuver through the peaks and valleys of a sloped one.
Green Building
Flat Roof Advantage: Recent developments in technology have allowed for the installation of solar panels onto rooftops. Flat commercial roofs offer greater convenience in placing solar panels on its surface than sloped roofs. The angle of solar panels on sloped roofs lessens the absorption of the sun's rays in comparison to those placed on a flat roof. If a sloped roof faces east, for instance, solar absorption is reduced when the sun moves south and west.
A flat roof solar panel system, however, can be oriented to face any angle no matter what direction the property faces. As a result, maximum energy is absorbed from flat roof solar panels than slope roof solar panels. In addition, flat roof solar panel systems offer flexibility in design, so that business owners receive optimum energy benefits from its usage.
A flat roof is famed for its ample space to house rooftop gardens, too, which is a major win for environmental enthusiasts.
Space
Flat Roof Advantage: Commercial properties are sought after for space. Businesses make every attempt to utilize all available space, whether for storage, equipment, or machinery. The expense of renting storage units can be avoided by utilizing the large space under a flat commercial roof.
Air conditioning systems and heating systems also take up ample space, and the most ideal place to put them is on a flat commercial rooftop. Building codes might dictate the final placement of the air conditioner and heating system, but the flat roof offers the most available space.
Another advantage to placing the air conditioner, heating system, and other equipment on a flat roof outside is to reduce inside noise pollution. Within the inner confines of an industrial space, the damaging noise produced by these types of machinery leads to hearing loss in employees exposed to the constant blasts.
Cost
Sloped Roof Advantage: In general, flat roofs cost more than sloped roofs due to the increased complexity of steps involved in the building process. Flat roofs also require insulation. Without proper insulation, business owners will spend a lot more on heating and cooling expenses. Choosing a reliable company to insulate the flat roof will result in greater energy efficiency, increased lifespan of the roof and comfortable temperatures inside the property.
Flat Roof Advantage: Overall, large commercial properties offer unending benefits when under a flat roof. A huge commercial building with a pitched or sloped roof is unnecessarily costly and difficult to manage, requiring special engineering to accommodate the structural weight, drainage, and HVAC equipment.

Work with a Commercial Roofing Company
If you are still unsure of whether a flat or sloped roof is best for you, a professional roofing company can provide some assistance. Reliable Roofing is not only a member of the National Roofing Contractors Association, but is licensed, bonded, and insured to offer clients maximum peace of mind. Their professionals provide top-notch roofing services to commercial properties, like restaurants, warehouses, office buildings, churches, hospitals, and schools.
Our professionals use only the best materials available in the industry to seal leaks, replace damaged materials, clean the roof, and provide simple repairs and maintenance. Reliable Roofing is also skilled in commercial roof repair and replacement, rebuilding damaged roofs, the installation/repair/maintenance of sheet metal roofing and insulation replacement.