Roof Installation In Lake Zurich, IL and North Chicago Suburbs
Licensed and insured up to $6 million
The roof of a business or commercial building is important for protecting everything that a business needs to function, including employees, equipment, and products.  Having a new roof installed, whether for an existing building or a newly constructed building, is a big job that must be done by a professional roofing installation contractor to ensure proper installation.
If a new roof is not installed properly, it will be more prone to damage or leaks which can shorten the life of the roof and end up being costly in repairs.
Licensed Roofing Contractor
Reliable Roofing is a professional roof installation company that can install any type of residential and commercial roofing systems in Lake Zurich, IL and the surrounding north Chicago suburbs.  Our experienced roofers will provide comprehensive roof installation with the best available products and materials from the leading manufacturers in the roofing industry.
All of our work is licensed, bonded, and insured for your protection, and we provide free estimates for our roof installation services.  Reliable Roofing is a member of the National Roofing Contractors Association (NRCA) and committed to providing ethical, cost-effective commercial roofing services.
Roof Installation Lake Zurich, IL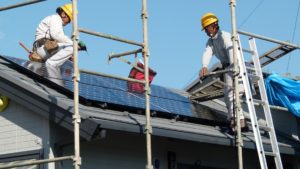 Roofing installation is not a job that should be taken lightly.  Our professionals have a meticulous, step-by-step installation process that covers every detail to ensure proper roof installation.  This process includes the following steps:
Inspection of the building
Installation of new insulation
Installation of the roof: We can provide all the materials needed to install the following roofing types:
Final inspection to check for proper sealing and installation.
We guarantee lasting durability for your new roof and do all of our roof installation services under warranty.  If you need a new roofing system installed for an existing building or new construction, talk to our professionals at Reliable Roofing.  We can provide dependable roof installation services with quality materials from the industry's best manufacturers.
Free Quote
Give us a call at (815) 981-9898 for a free roof installation estimate in Lake Zurich, IL and the surrounding areas.
---
Related Commercial Roof Installation Services and Posts:
Commercial Roof Inspection Lake Zurich, IL
Roof Replacement Lake Zurich, IL
When to Replace a Roof for an Office Building
---
Review by Craig
Reliable Roofing
Rating 5

"I want to thank you and to let you know that it was a pleasure to work with the service crew that came out to repair our roof. They were on time, honest and did a great job, the office was upfront and professional. I will make sure that all my friends and neighbors know about Reliable Roofing."