Roof Repair
Roof repair services offered in Chicagoland area
All of the valuables in your place of business are protected by the roof over the building.  But when it becomes damaged, it can no longer protect the building from the weather and other outside elements, leading to additional problems inside. The damage to a roof can also become worse if not addressed, leading to expensive repairs.
There are numerous ways that your roof can become damaged, from severe weather to loose tree branches or animals. Any damage that your roof sustains must be repaired immediately by a professional to avoid further structural damage or water damage inside from leaks.
Roof Repair Professionals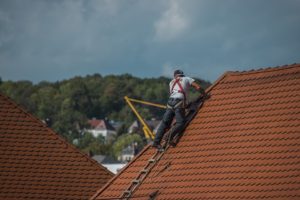 Reliable Roofing is a licensed and bonded roofing contractor that provides roof repair services for residential and commercial properties in the Chicagoland area.  We have a highly trained and experienced staff that can repair a range of complications with your roof to ensure that it can keep your business protected from outside elements.
We are committed to providing reliable, cost-effective repair for residential and commercial roofing and we are a member of the National Roofing Contractors Association (NRCA) so you can expect quality work and superior products.  All of our work is covered under warranty and we have an insurance policy that covers us up to $6 million.
Roof Leak Repair Services
The technicians of Reliable Roofing are ready to handle any roof repairs from shingle repair and replacement to full roof restoration.  We work with trusted manufacturers in the roofing industry and use quality products available to ensure quality results.  Roof damage can lead to major complications, which is why we always respond to customer requests within 24 hours of the initial call.
Our experienced roof leak repair services consist of the following:
Hail and Storm Damage Repair: Severe weather is among the most common causes of roof damage like wind, hail, snow, and ice can put extra stress on the roof. When a roof is damaged in a storm, it leaves the building vulnerable to leaks that can cause water damage inside. Reliable Roofing addresses roof damage caused by severe weather while repairing all leaks.
Shingle Repair and Replacement: The shingles can easily become damaged by severe weather or animals, as well as general wear and tear. We repair damaged materials or replace them with those from the best manufacturers.
Leak Repair and Prevention: A leak from the roof is dangerous because leaking water can cause serious structural damage over time. Our technicians identify and repair all leaks in the roof.
Roof Repair: We have the equipment and experience to effectively repair damage to roofing.
Roof Restoration: Worn-out roofs are vulnerable to leaks and structural damage. Our roof restoration services will restore the structural integrity of your roof.
New and Existing Penetration Tie-Ins: Damaged tie-ins surrounding penetrating objects on the roof like the vent pipe can lead to leaks. We repair or replace damaged tie-ins.
Warranty Repair Work: All of our roof repair services are backed by the manufacturer's warranty.
Roof damage, whether minor or severe, can lead to additional complications the longer it is ignored.  This is why we recommend calling Reliable Roofing as soon as possible if the roof of your business sustains damage.  Our technicians will arrive on your property within 24 hours of your call to provide dependable, comprehensive roof repair.
Free Estimate
You can call Reliable Roofing at (815) 981-9898 to get a free estimate on professional roof repair services in the Chicagoland area.
---
Related Roof Repair Services and Posts:
Flat Roof Drainage Solutions
Roof Repair Schaumburg, IL
Roof Leak Repair Elk Grove Village, IL
Roof Leak Repair Buffalo Grove, IL
Roof Leak Repair Wheeling, IL
Roof Repair Crystal Lake, IL
Northbrook, IL Roof Leak Repair
Roof Repair Arlington Heights, IL
Roof Leak Repair Chicago, IL
Roof Leak Repair McHenry County, IL
Roof Leak Repair Skokie, IL
---
Review by Rachel
Reliable Roofing
Rating 5

"I will recommend your company to anyone! The entire experience working with your company was a pleasure. Your Foreman explained every detail to us and we really appreciate how nice he and the entire crew was. They were all very professional and courteous."