Roofing Services in Skokie, IL
Insured up to $6 million.
Known as one of the most trusted commercial roofing companies in the Chicago metropolitan area, Reliable Roofing provides various roofing services for industrial buildings of all types in the Skokie, IL area. Our team first started with a group of 6 contractors, but after years of hard work and training, we have grown into a full-size roofing company.
Each of our roofing contractors is licensed, trained, experienced, and insured up to $6 million. As safety is our first priority, we take all necessary measures to ensure that our employees are protected at all times. We are also experienced in working with a number of different roofing systems, including TPO, PVC, EPDM, modified bitumen, and more. Finally, our professionals only use roofing materials manufactured by the the industry's most qualified vendors, including Soprema, Firestone, Johns Manville, and more.
Roofing Contractors Skokie, IL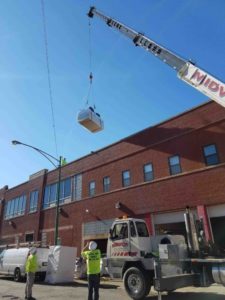 When conducting any roofing service, Reliable Roofing strives to focus on improving each experience for our customers. By attending frequent training sessions, requiring additional on-the-job training, and staying updated on the latest trends and products in the industry, it is our goal to ensure that you are satisfied with our results. Our contractors also ensure to identify any potential problems that may lead to a leak or need for replacement and notify you right away.
If your roof needs to be replaced, Reliable Roofing will provide you with an accurate estimate, timeline of services, as well as the details of the service. Our relationships with the industry's top roofing manufacturer's also allow us to provide several options for a warranty that will keep you covered in the years to come. Finally, we will work efficiently and effectively to ensure that your building stays protected and you won't have to worry about any leaks in the near future.
Anyone who lives in the Chicago metropolitan area knows that the weather is all over the place. With extreme temperatures changes as frequent as these, the effects can be severe on a roof. Whether facing strong UV rays, pelting rain, or freezing snow and ice, the roofing system will become damaged over time. As some areas will face more damage than others, leaks will develop and create significant problems for the building. This is why it's important to call for a roof repair service immediately. Reliable Roofing understands the urgency of these situations and will respond right away to your call. Our roof repair services cover a number of materials on commercial buildings of all types.
Leaks can only be repaired so many times. There comes a point where it doesn't make much financial sense to continue investing in short-term solutions. If you have found that these troublesome leaks are nickel-and-diming you or you feel that your roof is due for replacement, call our professionals at Reliable Roofing. We install various types of materials from the industry's top manufacturers while working on commercial buildings of all types. Our services are both efficient and effective, ensuring that your new system and equipment is installed properly so you won't be facing any leaks in the near future. We also offer a number of warranties that cover various services for 20+ years. Give us a call for a free estimate.
Not many property owners give much thought about roof maintenance. But the reality is that it doesn't only save money in the long run, but the headache of worrying about leaks in the future. The roof maintenance services provided by Reliable Roofing include frequent inspections, repairs, small equipment installations, number of years until replacement is necessary, and documentation of all services. When our customers choose roof maintenance services, we have seen that the lifespan of their roofing system is significantly longer than those who opt out. Give us a call for a free estimate on roof maintenance services for your building.
The term "commercial roofing" can include a number of different services, including repair, replacement, inspection, installation, equipment installation, and more. But all of those services are proudly provided by Reliable Roofing, a commercial roofing contractor that services buildings of all types. Whether your building is in need of a new roof or a few minor repairs, you can count on our professionals to get the job done right, so you can have some peace of mind and focus on your business operations. We also work with the industry's top manufacturer's to ensure that the system you choose is durable and water-tight to prevent problems in the future. Give us a call for a free estimate on any of our commercial roofing services.
As many contractors are recognizing the need and the OSHA requirement for buildings to have roof anchors installed and maintained, they are disallowing their employees to perform any work until they see written proof that this is done. According to OSHA's new rule, all building owners are required to have roof anchors installed at specific points and be able to withstand the weight of 5,000 lbs to pass annual inspections. Our professionals at Reliable Roofing will ensure that your building is kept up to date, installing, maintaining, and inspecting your roof's anchors to allow other contractors to perform work on the building.
Contact Us
For a free estimate on our roofing services in the Skokie, IL area, contact Reliable Roofing at (815) 981-9898.
---
Related Roofing Services:
Roofing Services Arlington Heights, IL
Professional Roofing Services Elk Grove Village, IL
Roofing Company Schaumburg, IL
Roofing Contractors Buffalo Grove, IL
Roofing Contractors Crystal Lake, IL
Roofing Services Chicago, IL
Roofing Services Northbrook, IL
---
Review by Rachel
Reliable Roofing
Rating 5

"I will recommend your company to anyone! The entire experience working with your company was a pleasure. Your Foreman explained every detail to us and we really appreciate how nice he and the entire crew was. They were all very professional and courteous."