Roofing Services in Northbrook, IL
Local experts.
Known as one of the Chicago metropolitan area's most trusted commercial roofers, Reliable Roofing provides an array of roofing services for commercial buildings in Northbrook, IL. First starting with a group of 6 professionals, we have grown into a full team of experts with years of experience and knowledge in the commercial roofing industry.
Our contractors are licensed and bonded up to $6 million, giving you the peace of mind that your building is covered throughout each service. Our professionals are also well-versed in a number of commercial roofing systems, including EPDM, TPO, PVC, Turbo-Set Roof Coating and modified bitumen, all of which are supplied from the industry's most qualified vendors: Firestone, GAF, John Mansville, and more.
Roofing Contractors Northbrook, IL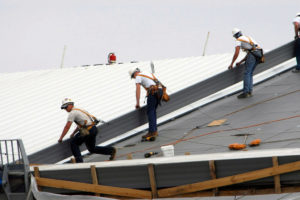 Reliable Roofing is constantly striving to improve our services, attending frequent training sessions and working with the industry's best equipment in order to provide the best results. When working with our roofing contractors, you can depend on us to provide all of the services needed for your commercial roof. We will also work to ensure that if there are any signs of potential damage that can lead to a leak, you will be notified before it becomes a problem.
If you are looking for a replacement, you can expect an accurate estimate from our licensed experts. We will also work with you to choose a warranty that meets your needs and budget, allowing you to keep costs efficient and be covered should any damage occur.
Reliable Roofing is known to be one of the industry's best when it comes to commercial roofing. But even the most durable materials will wear down over time, even developing leaks if not maintained. When working with our experts, our roof maintenance services will consist of frequent inspections, minor repairs, documentation of all services, and more. This way, you can take full advantage of your roof's lifespan without having to worry about any leaks developing in your roofing system.
Determining when your commercial roof is due for replacement can be tough. But when you are constantly finding leaks and/or other signs of damage like ponding and discolored materials, it's time for replacement. Reliable Roofing can provide you with a free, accurate estimate of the roofing system that works best for your building and begin working right away. Our professionals work with the industry's most qualified equipment while using the latest techniques to install the new material. Our strong partnerships with qualified manufacturer's will also allow you to choose from a number of warranties that will keep you protected long after installation.
As Chicago temperatures can vary between 40 and 50 degrees in the same week, commercial building roof systems experience the effects firsthand, soaking up the heat in the summer while freezing in the winter. Over time, materials will weaken and you may notice problems without frequent inspections. At any time your commercial roof develops a leak, don't hesitate to reach out to a roofing professional. The experts at Reliable Roofing are experienced in working with a number of commercial roofing systems, including TPO, PVC, EPDM, and more. We can also identify any other signs of damages and repair them to prevent any problems in the future.
According to OSHA's regulations, the agency is requiring that all commercial roofs must have anchors in order for any contractor to perform work on the roof. They must be placed at specific points and must hold the weight of 5,000 pounds in order to pass annual inspections. If not, contractors won't perform any work until they have seen proper documentation that the anchors have been tested, certified, and maintained. Reliable Roofing can provide the proper roof anchor installation services your building needs in order to overcome this obstacle. Our professionals are aware of and abide by all regulations so your building is kept updated and passes each annual inspection.
While many building owners don't notice the difference, there are many differences between commercial and residential roofing. A commercial building roof is in most cases, more complex than that of a house, due to the amount of equipment, drainage systems, its size, and a number of other factors. They also require specific roofing systems in order to support the equipment while combatting Chicago's harsh weather conditions. Reliable Roofing specializes in commercial roofing in order to provide the expertise and quality of service your building needs to keep your property and assets protected. We are available to provide free estimates on a number of services, including repair, replacement, maintenance, inspections, and more.
Contact for a Free Estimate
For a free estimate on any of the roofing services in Northbrook, IL that are listed above, contact Reliable Roofing at (815) 981-9898 or fill out a contact form and we will contact you shortly.
---
Related Roofing Services:
Roofing Services Skokie, IL
Roofing Services Arlington Heights, IL
Roofing Contractors Schaumburg, IL
Roofing Company Elk Grove Village, IL
Roofing Services Lake Zurich, IL
Chicago, IL Roofing Services
Roofing Company Buffalo Grove, IL
Roofing Company Crystal Lake, IL
---
Review by Rachel
Reliable Roofing
Rating 5

"I will recommend your company to anyone! The entire experience working with your company was a pleasure. Your Foreman explained every detail to us and we really appreciate how nice he and the entire crew was. They were all very professional and courteous."