Whether flat or sloped, a commercial roof is loaded with hazards that can cause roofers to slip and fall, even to their death. Safety risks including perimeter walls, skylights, decking, and merely exposure to the natural elements can scream the risk of injuries.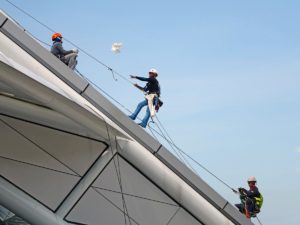 Simply taking the right precautions and steps is crucial and can even save a life. A few of these can include providing proper safety equipment, limiting who can access the roof, and providing those who are permitted the proper training to do so.
Staying Aware of Common Roofing Hazards
While they are designed to protect the building's contents, roofs are not meant to be walked on. This is why roof repairs and inspections must always be handled with caution. Workers must be careful where they step and do so lightly on metal panels and membranes.
Many accidents result from stories high, causing hundreds of deaths each year, in addition to the surging number of non-lethal injuries.
When conducting roofing services, commercial roofers must be aware of all of the following:
Ladders. If the commercial building doesn't have a way to access the roof, anyone using a ladder must use extreme caution. They can easily become unstable if they are not properly secured to the building.
Skylights. Skylights are great for letting in the natural light and saving electricity costs, but pose major risks when any amount of weight is put on them. This excludes tripping on the edges.
Loose debris. Commercial roofing is not designed to hold debris. Objects including tree branches, construction materials and equipment, and other tools can also threaten severe injuries when left on the roof.
High Temperatures. Even a roof without physical hazards can be dangerous. One that reflects heat will be especially tough on roofing technicians. This makes repairs, maintenance, and installation especially rigorous on the workers.
Parapet walls. If there are short or even no barriers on the roof ledge, the chances of falling are much higher than normal.
Exterior egress. While there are certainly multiple ways to access a roof, workers must be trained and practice extreme caution when using elevators, penthouse door, scaffolding, hatches, or power equipment.
Chemical exposure. All commercial buildings are different, and it's not only by size and shape of the building; the roof can give off toxic fumes, including lead or asbestos. All workers must be aware of this, especially when installing new materials.
Slippery conditions. The winter season is one of the most dangerous working seasons for roofing contractors. Due to the ice and snow, slipping and tumbling off the roof can happen in just a few seconds.
Electrical work. Before accessing the roof, all roofing technicians should be aware of the air vents and HVAC equipment, solar panels, surrounding power lines, conduit, and other electrical equipment.
Strain of physical activities. Being a roofing technician can be especially physically stressful. Daily tasks will normally involve kneeling, lifting, climbing, using tools, and standing for long periods of time. Taking frequent breaks are essential.
In addition to the hazards threatening the contractors, a commercial roof is also prone to a number of damages during inspections, repairs, maintenance, etc. If the materials are weak, simply walking across them can worsen the damage.
When working with roofing technicians, they must be trained properly and always be aware of their actions. From accidentally dropping tools on the roof to drilling unnecessary holes, significant amounts of damage can be caused if the job isn't handled properly.
Work with a Professional Roofing Company
After reviewing the list of hazards, it may seem as if your commercial roof is a landmine. While it really isn't, these hazards are the perfects reasons why the repairs, inspections, and maintenance should always be handled by a professional commercial roofing contractor.
At Reliable Roofing, our technicians are each trained and have years of experience when it comes to meeting all safety requirements when working on the roof. We are also licensed and insured up to $10 million, allowing us to deliver quality results at a cost-effective price. From warranty repair work to complete roof restoration, we can keep your commercial roof in the condition that fully protects and secures your building's contents.
Give us a call at (815) 893-0149 for a free quote on any of our commercial roofing services.