Roof Flashing and Equipment Installation in Lake Zurich, IL
Roof Flashing and Equipment Installation
Trained. Licensed. Insured up to $6 million.
Commercial buildings contain large internal systems including HVAC systems and communications systems that consist of many parts, devices, and appliances.  Some of the equipment needed for these systems to run efficiently is mounted on the rooftop.  Equipment such as large HVAC units, exhaust fans, air ducts, pipework, antennas and satellite dishes are commonly found on commercial roofing.
Securing Rooftop Equipment
These objects aren't just sitting on the roof, they are mounted using curb flashing, portals, and tie-ins.  If roof equipment is not installed properly, the area around the equipment could leak, causing serious water damage in time.  This is why you must get assistance from a roofing professional to install new equipment.
Commercial Roofing Professionals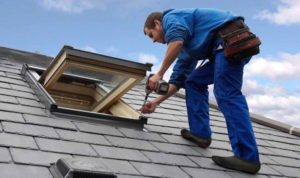 Reliable Roofing is a commercial roofing contractor based out of Lake Zurich, IL that provides roof flashing and equipment installation in Lake Zurich, IL and the surrounding northern Chicago suburbs.  Our licensed roofing professionals can properly install roof flashing as well as a range of common roof equipment properly, so that the equipment runs efficiently without causing leaks or damage to the roof.
Reliable Roofing is a proud member of the National Roofing Contractors Association (NRCA) and will provide ethical, cost-effective roof equipment installation services.  We also do our work under warrantee and have a $6 million-dollar insurance policy for coverage.
Roof Flashing and Equipment Installation Lake Zurich, IL
The roof equipment must be installed properly to prevent any damage to the roof or the equipment itself.  With the installation of roofing equipment comes the installation of curb flashings and tie-ins to mount the equipment in place and form a watertight seal to prevent roof leaks.
Whether replacing equipment or making a new installation, the roofers of Reliable Roofing can expertly install the necessary flashing and tie-ins.  You can trust our roofing contractors to complete the installation for new construction or to add equipment into existing systems.  We will also coordinate our work with other contractors as necessary including your HVAC contractor.
The roofers of Reliable Roofing can install the following types of roof equipment:
HVAC Units: Large HVAC units are needed to regulate the heating and cooling of a commercial building and they are normally installed on the roof because they are bulky eye sores. We can work with your HVAC contractor to install new HVAC units.
Flashing: In order to prevent water from damaging between crack between your roofing materials, we can install flashing to ensure it flows properly away from the building.
Roof Anchors: In order to meet the requirements of OSHA safety standards, Reliable Roofing can install roof anchors to ensure that you comply with all safety regulations and codes.
Exhaust Fans: Exhaust fans are used in some commercial buildings to pull fresh air into the building. We will make sure exhaust fans are mounted properly to the roof.
Cooling Towers: Cooling towers are important for extracting excess heat from other equipment. We can properly install cooling towers on your roof.
Air Ducts and Pipes: Ducts and pipes from various systems are often found on the roof. We can mount new ducts or pipework and integrate them into your existing systems.
Equipment Platforms: We can install platforms for your roof equipment that raise the equipment off the surface of the roof.
Solar Panels: If your building uses solar power, we can install new solar panels.
Communications Systems: These systems use a variety of equipment including antennas and satellite dishes. We can help install any devices you need for your communications system.
Free Estimate
Roof equipment is an important feature of the systems in a commercial building and if it is not installed with the proper roof flashing and tie ins, the roof could sustain damage.  Make sure you contact Reliable Roofing at (815) 981-9898 if you need professional installation of roof flashing or equipment for your businesses in the Lake Zurich, IL area.
---
Related Roof Equipment Installation Posts and Services:
Common Commercial Roof Safety Hazards
Professional Commercial Roof Installation
Roof Anchor Installation Elk Grove Village, IL
Roof Anchor Installation Itasca, IL
Roof Anchor Installation Northbrook, IL
Roof Anchor Installation Skokie, IL
Roof Anchor Installation Schaumburg, IL
---
Review by Craig
Reliable Roofing
Rating 5

"I want to thank you and to let you know that it was a pleasure to work with the service crew that came out to repair our roof. They were on time, honest and did a great job, the office was upfront and professional. I will make sure that all my friends and neighbors know about Reliable Roofing."