Commercial Roofing in Lake Zurich, IL and North Chicago Suburbs
Commercial Roofing Services
Licensed and Insured up to $6 million
The phrase "having a roof over your head" typically refers to homes and the shelter and security they provide for the families within.  However, roofs are also important for protecting a wide range of businesses and institutions that are housed within commercial buildings.
Commercial roofing is different than residential roofing because it is built to cover much larger buildings, not to mention the durability.  The roof over a business, educational institution, church, or healthcare facility is just as important for protecting the people and assets inside as a roof over a home, which it is essential a reliable professional to service the roof if there is a problem.
Commercial Roofing Lake Zurich, IL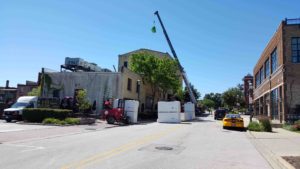 Reliable Roofing is a trusted roofing contractor that provides industrial and commercial roofing services, including commercial roof repair, for businesses in Lake Zurich, IL and the surrounding north Chicago suburbs.
We are fully licensed and bonded to provide commercial roofing services in the state of Illinois and our work is also insured for up to $6 million.  Our technicians are highly trained, equipped, and pay close attention to detail to provide dependable, quality services.  Reliable Roofing has working relationships with many top manufacturers in the roofing industry, so you can trust that the products we use are among the best available.
As a member of the National Roofing Contractors Association (NRCA), we are fully committed to providing quality commercial roofing services to keep your business or institution protected.
We can effectively service the following commercial buildings:
Office buildings
Warehouses
Restaurants
Churches
Hospitals and healthcare facilities
Schools and universities
Corner and retail stores
Commercial Roofing Contractors
Our staff at Reliable Roofing understands the importance of protecting your employees, customers, patients, students, assets and property which is why we respond promptly to your service requests in Lake Zurich, IL.
You can expect the following from our commercial roofing services:
Commercial Roof Repair: Although commercial roofing is built to last, it can still sustain damage from severe weather, animals, and other elements. We can handle any type of repair for different types of commercial roofing to ensure its integrity.
Commercial Roof Replacement: If the roof of your building is old, worn out, or heavily damaged, we can fully replace the roof.
Installation: We have the experience and equipment to install any type of commercial roofing in a wide range of settings.
Roof Construction: We will follow typical construction protocols to rebuild damage to your roof.
Commercial Roof Maintenance: Like all roofing, commercial roofing experiences general wear and tear from the elements. We can provide maintenance for your roof to ensure that it is in good shape.
Sheet Metal Roofing: Sheet metal roofing is growing in popularity as it is strong and improves the heating and cooling efficiency inside the building. We can install, repair, and maintain sheet metal roofing.
Repair and Replacement of Roofing Components: Reliable Roofing can repair or replace components of the roof that are damaged including decking, insulation, and others.
Wide Selection of Roofing Products: We work with top roofing manufacturers to provide options for quality, dependable roofing products, including TPO, PVC, modified bitumen, and more.
Commercial roofing may be built to last, but it is still susceptible to damage and general wear and tear that can compromise its integrity.  If the roofing of your business or institution needs repair or restoration services, contact the trusted professionals of Reliable Roofing.  We provide ethical, cost-effective commercial roofing services to help keep the businesses in Lake Zurich, IL and the north Chicago suburbs well protected.
Contact Us
Give us a call at (815) 981-9898 for a free estimate or to learn more about our commercial roofing services.
---
Related Commercial Roofing Services:
Commercial Roofing Elk Grove Village, IL
Commercial Roofing Schaumburg, IL
Commercial Roofing Chicago, IL
Commercial Roofing Arlington Heights, IL
Commercial Roofing Northbrook IL
Commercial Roofing Skokie, IL
---
Review by Joe
Reliable Roofing
Rating 5

"We decided to use Reliable Roofing to install a new roof on our building because of their years of experience, excellent referrals and knowledgeable staff. We highly recommend them to anyone."