Roofing Contractors in Chicago, IL
Licensed and insured up to $6 million.
The name "Windy City" may have come from politics, but the lakefront certainly contributes to the moniker. Dramatic changes in weather throughout the year are common, and residents can get hit with heavy snow and rain one day, and intense sunshine and heat the next.
As a result, roofs in the Chicagoland area must be built to withstand extraordinarily diverse conditions. Even when this is achieved, they can become damaged over time. At Reliable Roofing, we offer a range of roofing services to property owners in Chicago, IL, to address these problems.
Chicago Roofing Contractors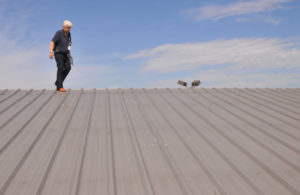 At Reliable Roofing, we have always focused on providing high-quality, cost-effective roofing solutions. This was true when we were founded with only six roofing contractors, and it is true today with our 40+ highly trained technicians. In fact, all of our roofers are specialized in their craft, and are bonded and licensed to provide roofing services in Illinois. They are also insured for up to $6 million.
As a member of the National Roofing Contractors Association (NRCA), our service promise extends further. Continual improvement and professionalism are our standards. We have learned quite a bit about roofing in Chicago over the years and have incorporated these lessons into our current services. When you work with us, you immediately benefit from our years of roofing experience.
You can also expect premier materials and products when you choose to utilize our services, as we have close relationships with top manufacturers in the industry.
Roof Maintenance – Chicago, IL
One thing that we've learned over the years is that roofs are often neglected until trouble arises. This is problematic because you don't generally notice any issues until the damage becomes extensive. Through our roof maintenance services, we provide periodic inspections to ensure that your roof is in a secure condition, and we will repair damaged areas as necessary. This increases the operational life of your roof and keeps your building safe.
It's normal for a commercial roofing system to weaken with prolonged exposure to Chicago's weather elements. Often times, specific areas will be more damaged than others. When this happens, a roof restoration service can provide a cost-effective solution that stops leaks before they become worse. It is also an eco-friendly option, sealing the roofing system with an elastomeric coating to avoid installing additional materials. Reliable Roofing has years of experience working with a number of different materials, including EPDM, TPO, PVC, and more in order to provide the best results for each building.
Any hesitation to replace an old, worn-out roof can only result in damage to your other building materials and assets. With each rainfall, there's no telling how much damage will be caused as a result of leaks. Reliable Roofing understands this issue completely, which is why we respond within 24 hours to provide a free estimate and even get started on replacing your commercial roof. We have a variety of products to choose from the most reputable manufacturer's; we can also provide a recommendation based on your budget and type of building. Give us a call for a free estimate on your next commercial roof replacement in Chicago, IL.
In some cases, severe events can lead to immediate roof damage. In others, the problem can slowly build up over time. We respond to both of these situations and more with our roof repair services. We fix affected areas before the damage gets worse and restore the security of your building.
Chicago is full of commercial buildings, from schools and medical centers to office buildings and stores. Through our commercial roofing services, we provide routine inspections and repair services to prevent roof damage as well as damage to the valuable assets inside these buildings. Reliable Roofing offers complete installation and roof replacement services, as well.
According to OSHA guidelines, rooftop anchors are essential for any type of roofing service performed as well as window washing for larger buildings. Our Reliable Roofing contractors have years of experience in installing rooftop anchors that meet all OSHA safety requirements. Available for free estimates in Chicago, IL, give us a call to learn more about how we can help you get your building up to industry standards.
Contact Us for a Free Estimate
Perhaps most importantly, we are ready to respond to emergency situations involving roof damage. To learn more, or to utilize our various roofing services, contact our Reliable Roofing representatives at (815) 981-9898. We operate in the greater Chicago, IL, area, and look forward to assisting you soon.
---
Related Roofing Services:
Roofing Company Schaumburg, IL
Roofing Services Elk Grove Village, IL
Roofing Contractors Crystal Lake, IL
Roofing Services Arlington Heights, IL
Lake Zurich, IL Roofing Services
Roofing Services Northbrook, IL
Roofing Services Skokie, IL
Roofing Services Buffalo Grove, IL
Roofing Services Lake Zurich, IL
---
Review by Rachel
Reliable Roofing
Rating 5

"I will recommend your company to anyone! The entire experience working with your company was a pleasure. Your Foreman explained every detail to us and we really appreciate how nice he and the entire crew was. They were all very professional and courteous."