Rooftop Anchor Installation in Lombard, IL
Commercial Roof Anchor Installation
We follow all OSHA requirements.
Especially for taller buildings, the need for roof anchors to be installed is growing. This equipment is commonly used in fall protections in order to hold lifelines and ropes to prevent window washers, roofers, and other workers from falling. In order to work effectively, these roof safety anchors must be installed strategically at the proper points as well as within OSHA regulations.
In fact, OSHA has recently dropped a new rule within roof installation, maintenance, and capability requirements that all building owners must meet. To ensure that you meet these requirements, Reliable Roofing can install these roof anchors properly, ensuring that all workers are safe from falls and injuries.
Roofing Contractors Lombard, IL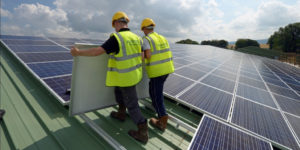 Available to provide roof anchor installation services in Lombard, IL, Reliable Roofing is an experienced commercial roofing contractor that follows all OSHA requirements. Our roofing professionals have undergone extensive training in order to install roof anchors properly that are also within OSHA's requirements. Our roofing specialists also understand the need to have an established fall protection system, which is why we ensure that all anchors are installed properly and in the proper places.
Reliable Roofing is also a member of the National Roofing Contractors Association (NRCA) and is committed to providing honest and cost-effective services to ensure that you receive the best service possible. Our professionals also work with the industry's leading roofing product manufacturers, including Johns Manville, Firestone, GAF, and more. Finally, our contractors are licensed in the state of Illinois and bonded up to $6 million to ensure your protection during the service.
Roof Requirements Set by OSHA
Roofing contractors, window washers, and other contractors depend on an established fall protection system when conducting any type of building service. The requirement for building owners to have these systems installed is to ensure their protection, and this includes the requirement to have roof anchors installed properly. OSHA specifically states under rule 1910.27(b) that "the owner of a building is responsible for installing roof anchors that can support at least 5,000 lbs. These anchors must also undergo annual inspections.
If your building needs maintenance that requires roof anchors, they will require written proof of all of the following:
They can support at least 5,000 pounds
Certification
Maintenance
Tested
It is also the responsibility of the service provider to disallow workers from conducting any work until receiving proof that all of the above requirements are met.
Rooftop Anchor Installation Lombard, IL
With our experience and training, our Reliable Roofing technicians can install rooftop anchors on buildings of all sizes and types of roofing that also meet OSHA's regulations.
Our services cover all of the following:
The proper location for the anchor is determined and cut out to fit the anchor.
The membrane and insulation are removed while holes are drilled into the concrete deck for the bolts to hold the anchor down.
The anchor is fitted in the space and bolted down using concrete bolts and epoxy.
Insulation is then installed around the roof anchor and covered with roof membrane to even it out with the rest of the roof.
The top sheet of the membrane is then laid and torched over the base sheet and sealed with caulk to form a water tight seal.
A curb filled with epoxy is poured around the roof anchor to form a watertight, permanent flashing.
Roof anchors are an essential part of all commercial buildings in order to perform any service. But they must also be installed properly, inspected annually, and maintained in order to meet OSHA's requirements. Reliable Roofing can help with the installation and maintenance service, ensuring that your building is up to code at all times to ensure the safety of all workers.
Free Estimate
For a free estimate on roof anchor installation services in Lombard, IL and the surrounding Chicago suburbs, call Reliable Roofing at (815) 981-9898.
---
Related Roof Anchor Installation Services:
Roof Anchor Installation Chicago, IL
Rooftop Anchor Installation Lisle, IL
Lake Zurich, IL Roof Anchor Installation
Roof Anchor Installation Itasca, IL
Roof Anchor and Equipment Installation Elk Grove Village, IL
Schaumburg, IL Roof Anchor Installation
Roof Anchor Installation Northbrook, IL
---
Review by Rachel
Reliable Roofing
Rating 5

"I will recommend your company to anyone! The entire experience working with your company was a pleasure. Your Foreman explained every detail to us and we really appreciate how nice he and the entire crew was. They were all very professional and courteous."