Roofing Contractors in Arlington Heights, IL
Experienced in various roofing services.
Buildings in Arlington Heights, IL, are exposed to a number of adverse conditions that can severely damage the roof. From snow and ice to strong winds and rain, there are a variety of natural elements that can cause damage either immediately or over a period of years.
At Reliable Roofing, we provide full roofing services in Arlington Heights, IL to prevent damage from occurring and fix it if it has already occurred.
Our History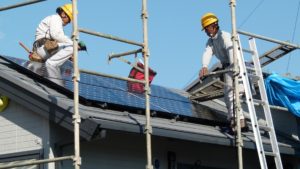 Reliable Roofing was founded with just six roofing specialists. Now, we employ over 40 trained roofing contractors and respond to roofing emergencies across northern Illinois. All of our technicians are trained and experienced in their craft and are licensed and bonded to provide roofing services in Illinois. They are insured for up to $6 million, as well.
We are a proud member of the National Roofing Contractors Association (NRCA), and work with industry-leading manufacturers to ensure that you receive the highest quality services possible at a cost-effective price point.
Preventing Roof Damage
Whenever your roof is damaged, everything beneath it becomes at risk. This includes valuable assets such as electronics, business equipment, and inventory, as well as any individuals on-site. One of the greatest risks is that of water damage. Water can penetrate porous building components to cause structural damage and can permanently affect various belongings. Other major concerns include mold growth, pest infestations, and vandalism.
Roofing Services Arlington Heights, IL
Our roofing contractors are highly trained in a variety of fields to efficiently and effectively inspect, repair, or replace roofing materials of various types. The products and designs in use can vary greatly by location, and this is particularly true in Arlington Heights, IL.
Nonetheless, no matter your unique needs, Reliable Roofing can address them through our various roofing services. They include:
Roof Maintenance: We provide routine inspections to ensure that damage to your roof does not develop. If it does, we will repair it promptly. This service can prevent extensive property damage and lengthen the operational life of your roof.
Roof Repair: Because roofs are often neglected until something goes wrong, major roof repair services are sometimes needed. Reliable Roofing will repair any level of damage to your roof and restore security to your building and belongings.
Roof Replacement: Determining when your roof should be replaced can be a difficult decision. But the contractors at Reliable Roofing can provide some insight and recommend a roofing system and warranty that best meets your needs and budget. We can also provide roof re-covering for eligible roofing systems.
Commercial Roofing: Arlington Heights is full of commercial buildings. They include schools, office buildings, medical facilities, stores, warehouses, and more. When the roofs of these buildings are damaged, everything within them becomes exposed to dangerous outside elements. Through our flat roof and commercial roofing services, we protect your valuable assets by providing periodic inspections and repair services as required. We also offer complete roof installation and replacement services.
Free Estimate
To take advantage of our roofing services, or to learn more about how we can address your roofing needs, contact our Reliable Roofing representatives at (815) 981-9898. We currently operate in Arlington Heights, IL, and surrounding areas.
---
Related Roofing Services:
Roofing Services Schaumburg, IL
Roofing Company Chicago, IL
Roofing Contractors Crystal Lake, IL
Elk Grove Village, IL Roofing Services
Roofing Company Buffalo Grove, IL
Roofing Services Northbrook, IL
Roofing Contractors Skokie, IL
---
Review by Rachel
Reliable Roofing
Rating 5

"I will recommend your company to anyone! The entire experience working with your company was a pleasure. Your Foreman explained every detail to us and we really appreciate how nice he and the entire crew was. They were all very professional and courteous."