Commercial Roofers in Schaumburg, IL
Professional local experts. Trained.
Schaumburg, IL, is home to a number of commercial properties that count on sturdy, quality roofing to protect their buildings and their contents. However, these roofs can become damaged by severe storms, ice and snow, hail, animals, and even standard wear and tear over time.
At Reliable Roofing, we offer commercial roofing services in Schaumburg, IL to repair damaged buildings and prevent additional issues from occurring in the future. We provide this service to businesses, schools, healthcare facilities, churches, and similar institutions.
Commercial Roofing Schaumburg, IL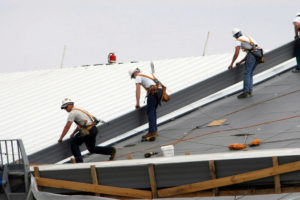 At Reliable Roofing, we offer the services of some of the most talented roofing technicians in the industry. All of our roofers are highly trained to restore your roof following a variety of common and unique scenarios. They are also adept with the equipment required to complete these jobs, as well as our state-of-the-art procedures.
When you work with us, you will be receiving dependable, cost effective, and quality services. As an added benefit to our clients, we only work with highly reputable manufacturing companies to guarantee that you receive an optimal result. All of our experience and training doesn't mean much if it is wasted on cheap materials.
Licensed and Insured Commercial Roofers
As a company, we are licensed and bonded to provide commercial roofing services in the state of Illinois, and are insured for up to $10 million. We are also a proud member of the National Roofing Contractors Association (NRCA), and are fully dedicated to mastering our craft. This continual improvement translates to a better result for your business or institution.
Roofing Services Schaumburg, IL
Protecting individuals, equipment, and belongings within buildings is an important task. This is a major reason why we take our job so seriously. For a better understanding of the specific service offerings we provide through our commercial roofing services, please see below:
Roof Replacement or Repair: There are a number of events that can lead to a damaged roof. Depending on the extent of the damage, we can fully replace your roof, or focus on fixing affected areas.
Installation: Thanks to the expertise of our technicians, there is no limit to the types of commercial roofing settings in which we can operate.
Roof Construction: You can expect standard construction protocols to be followed when working with Reliable Roofing.
Sheet Metal Roofing: Because of the inherent benefits of sheet metal roofing, it is rapidly growing in popularity. We can install, repair, and maintain this type of roofing.
Commercial Roof Maintenance: If your roof could simply use touch ups, we can provide inspections and minor repairs.
Restoring Roofing Components: We can fully repair or replace decking, insulation, and similar roofing components.
Other: Our range of expertise and manufacturer connections allows us to provide a variety of dependable roofing products.
Free Quote
To learn how you can benefit from our commercial roofing company, simply contact our Reliable Roofing representatives at (815) 981-9898. We operate in the Schaumburg, IL, area, and look forward to assisting you soon.
---
Related Industrial Roofing Services:
Commercial Roofers Chicago, IL
Commercial Roofing Lake Zurich, IL
Commercial Roofing Services Elk Grove Village, IL
Commercial Roofing Experts Arlington Heights, IL
Commercial Roofing Specialists Northbrook, IL
---
Review by Joe
Reliable Roofing
Rating 5

"We decided to use Reliable Roofing to install a new roof on our building because of their years of experience, excellent referrals and knowledgeable staff. We highly recommend them to anyone."