Flat Roof Repair in Lake Zurich, IL and North Chicago Suburbs
Flat roof repair services in Lake Zurich, IL.
Many commercial buildings are topped with flat roofs and there are several types of flat roofing systems available that each has different characteristics and advantages.  A feature that all flat roofing systems have in common is that they are built to last and resist severe weather and hail, temperature changes, and even ozone.  Yet, these roofing systems are still vulnerable to damage from storms, animals, and debris that can cause a leak in the roof, leading to even bigger problems.
If there is a problem with the flat roof of your business, it is very important to call a trusted roofing contractor to repair the damage before it becomes worse or spreads inside.
Flat Roof Repair Lake Zurich, IL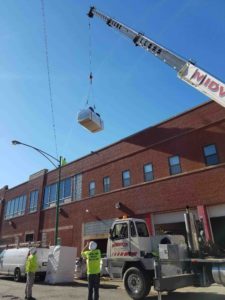 Reliable Roofing is a trusted roofing contractor that provides flat roof repair services for homes and businesses in Lake Zurich, IL and the surrounding north Chicago suburbs.  Our roofing experts can repair any type of flat roofing system, and we work with the top manufacturers of the industry to ensure that we are using the best products available.
We are a proud member of the National Roofing Contractors Association (NRCA) so you can expect dependable, cost-effective flat roof repair services.  Our roofing services are licensed, bonded, and insured for up to $6 million and we respond within 24 hours of your initial call.
The roofing experts of Reliable Roofing can provide repair services for the following types of flat roofing systems:
Single-Ply TPO and PVC Roofs: Thermoplastic olefin (TPO) and polyvinyl chloride (PVC) flat roof types are made from thermoplastic membranes. These membranes soften in the heat and harden in cold temperatures, and they are relatively low maintenance and easy to fix.
Single-Ply EPDM Roofs: These roofing types are made from a cured synthetic rubber called ethylene propylene diene terpolymer (EPDM). This material is extremely resistant and easy to repair.  Its main advantages include resistance to hail and ozone, good weathering, low temperature flexibility, and the ability to maintain its physical properties.
Modified Bitumen Roofs: This flat roofing comes with two main types of polymer modified bitumen membranes; atactic polypropylene (APP) and styrene butadiene styrene (SBS). These thick, reinforced membranes are typically reinforced with a combination of fiberglass and polyester and covered with a granule surface or coating.  The main advantages of bitumen roofs include durability, resistance to roof top foot traffic, UV resistance, flexibility, easy maintenance, and resistance to tears and punctures.
Sheet Metal Roofs: Sheet metal roofing is cost-effective, energy efficient, and more durable than many traditional roofing types. This flat roof type is also quick and easy to install.
There numerous ways that your flat roof can sustain damage from severe storms to fallen tree branches and animals.  Regardless of what causes the damage, immediate action must be taken to prevent the damage from getting worse or leading to a leak that can cause serious structural damage to the inside walls and ceilings.
Our roofing professionals ready to provide a range of flat roof repair services that include the following:
Application of new coating
Sealing of any leaks
Simple repair and maintenance
Cleaning of the roof
Replacement of damaged materials with best available materials
Free Estimate
If the flat roof of your business has sustained damage or sprung a leak, don't hesitate to call the roofing professionals of Reliable Roofing for flat roof repair services. We have the experience to service any type of flat roof system and we strive to provide quality results to restore your peace of mind.
You can reach us at (815) 981-9898 for a free estimate on professional flat roof repair in Lake Zurich, IL and the surrounding areas.
---
Related Flat Roof Repair Services and Posts:
Solutions for Flat Roof Drainage Problems
Roof Repair Elk Grove Village, IL
Industrial and Commercial Roofing Lake Zurich, IL
Roof Repair Lake Zurich, IL
Schaumburg, IL Commercial Roof Repair
Roof Leak Repair Arlington Heights
Roof Leak Repair Buffalo Grove, IL
Roof Leak Repair Chicago, IL
Roof Leak Repair Crystal Lake, IL
Roof Leak Repair Elk Grove Village, IL
Roof Leak Repair McHenry County, IL
Roof Leak Repair Northbrook, IL
Roof Leak Repair Schaumburg, IL
Roof Leak Repair Skokie, IL
Roof Leak Repair Wheeling, IL
---
Review by Craig
Reliable Roofing
Rating 5

"I want to thank you and to let you know that it was a pleasure to work with the service crew that came out to repair our roof. They were on time, honest and did a great job, the office was upfront and professional. I will make sure that all my friends and neighbors know about Reliable Roofing."