Rooftop Anchor Installation in Lisle, IL and Northwest Suburbs
Rooftop Anchor Installation
Experienced and licensed roofing contractors for rooftop anchor installations.
All commercial buildings, apartment buildings, and high rises are fitted with fall protection systems on the roof that include roof top anchors.  The fall protection system is put in place for rooftop workers to use for their safety and they use the rooftop anchors to secure their ropes and lifelines.  That makes it very important for roof anchors to be installed properly and in the right areas of the roof to provide protection against falls.  OSHA has very strict requirements in place to ensure that roof anchors are installed properly and that they are inspected annually to test their capabilities.
According to OSHA, the responsibility of ensuring that rooftop anchors are installed and maintained properly falls on the owner of the property.  At Reliable Roofing, we can install rooftop anchors for buildings in Lisle, IL according to OSHA's rules and regulations and make sure that they remain in compliance with OSHA's standards.
Commercial Roofing Contractor Lisle, IL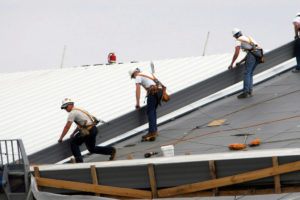 Reliable Roofing is a trusted roofing contractor that provides rooftop anchor installation and maintenance services in Lisle, IL.  Our professional roofers will not only install these safety anchors properly according to OSHA regulations, but also provide the inspections and maintenance necessary to ensure that they remain in compliance.  As professionals that rely on fall protection systems for our own safety, we understand how important it is to install rooftop anchors in the right spots to ensure the safety of rooftop workers.
We are a member of the National Roofing Contractors Association (NRCA) and committed to providing ethical, cost-effective roof repair and installation services using quality products.  Our roofers are fully licensed and bonded to provide roofing services in Illinois and we are insured for up to $6 million.
Requirements for Roof Anchor Installation
Fall protection systems are put in place on commercial buildings so that roofers, window washers, and other rooftop workers can use them for their safety.  It is very important for rooftop anchors to be installed properly because they support the lifelines of these workers that protect them from falling.  According to OSHA rule 1910.27(b), rooftop anchors must be able to support at least 5,000 pounds and they need to be annually inspected, maintained, and certified.
A professional contractor generally will not allow their employees to work on your roof until you can prove that your roof anchors have been inspected and are in compliance with OSHA's rules.
Rooftop Anchor Installation Lisle, IL
Our roofing technicians at Reliable Roofing can install rooftop anchors in the right spots so that they are compliant with OSHA's rules and regulations.
The rooftop anchor installation process includes the following steps:
We determine the best areas to install the anchors and cut out the roof membrane and insulation to fit the anchors in these spots.
We will drill holes in the concrete deck under the membrane and insulation to bolt the anchors in place.
Reliable Roofing then bolt the anchors using concrete bolts and epoxy for security.
New membrane and insulation are installed around the anchor to blend in with the surrounding membrane.
We torch and seal the membrane with caulk to make it water resistant.
We surround the anchor base with a curb containing epoxy to create a watertight flashing.
If you own a commercial building or apartment building, it is your responsibility to make sure your rooftop anchors are installed properly and in compliance with OSHA's standards.  Our professionals can install new roof anchors to your building and provide annual inspections to ensure that they remain compliant.
Contact Us
You can reach Reliable Roofing by calling (815) 891-9801 to learn more about our roof anchor installation services in Lisle, IL.
---
Related Rooftop Services and Posts:
Rooftop Anchor Installation Lake Zurich, IL
Rooftop Anchor Installation Chicago, IL
Roof Anchor Installation Northbrook, IL
Roof Equipment Installation Lake Zurich, IL
Roof Anchor Installation Elk Grove Village, IL
Roof Anchor Installation Schaumburg, IL
Rooftop Anchor Installation Lombard, IL
Itasca, IL Roof Anchor Installation
---
Review by Rachel
Reliable Roofing
Rating 5

"I will recommend your company to anyone! The entire experience working with your company was a pleasure. Your Foreman explained every detail to us and we really appreciate how nice he and the entire crew was. They were all very professional and courteous."