Roofing Services in Crystal Lake, IL
Response within 24 hours.
Property owners in Crystal Lake, IL, can count on our talented technicians at Reliable Roofing to provide roof maintenance, repair, installation, and a variety of other roofing services. Beginning with a humbling six specialists, we have since grown to become one of the most trusted roofing service providers in northern Illinois.
Each of our 40+ technicians are licensed and bonded to provide these services in the Land of Lincoln and are insured for up to $6 million.
Roofing Contractors Crystal Lake, IL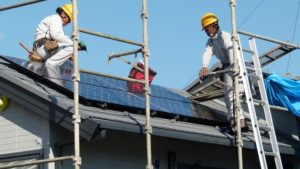 Our ultimate goal is to provide you with a quality result. A damaged roof can lead to expansive property damage, and potentially harm valuable equipment and belongings in the building. By handling every aspect of the roof repair process, we not only add security to your property, but do so in a manner that gives you greater peace of mind.
We are a member of the National Roofing Contractors Association (NRCA), and always try to come up with cost-effective solutions given your unique needs. Additionally, we have developed relationships with top manufacturers in the roofing industry to guarantee that your roof is constructed from the best products on the market. To learn more about how we can assist you, contact our Reliable Roofing representatives at (815) 981-9898.
Roof Maintenance – Crystal Lake, IL
Commercial roofing is designed to be durable and long lasting. As a result, it sometimes goes years without being inspected or repaired. This can lead to neglected wear and tear that shortens its operational life. Through our roof maintenance services at Reliable Roofing, we will provide you with regular inspections, repair cost analyses, and roof repair services as needed.
Commercial roofing systems are built to last, but not forever. If your building is due for roof replacement, it's important to work with professional, experienced roofing contractors that will install the system properly. Otherwise, you could be facing a number of leaks and maintenance bills in the coming years. When working with Reliable Roofing, we can help you choose the roofing system that best fits your needs and budget, as well as recommend a warranty that will keep you covered for future repairs, inspections, and maintenance.
Ensuring that your roof is in a functioning state and free from damage is of the utmost importance. The overall integrity and security of your building and its contents are at risk if your roof is vulnerable. At Reliable Roofing, we offer roof repair services to protect your property from outside elements. This reduces the odds of future damage occurring and extends the life of your roof. Our roofing specialists will repair damage and leaks in a swift and effective manner.
Commercial Roofing – Crystal Lake, IL
Commercial buildings are particularly valuable because of the assets inside. These structures include schools, stores, warehouses, offices, healthcare facilities, and more. Whenever the roof of one of these types of buildings is damaged, the equipment, individuals, and inventory below can all be harmed. Similarly, the costs associated with commercial property damage are high because of the initial costs required to fix the cause, as well as the lost revenue due to limited operations. At Reliable Roofing, we understand these factors, and provide complete commercial roofing services. We address everything from roof installations and replacement to general maintenance and repairs.
Get a Free Estimate
For questions or a free estimate for any of the roofing services listed above, please give Reliable Roofing a call at (815) 981-9898.
---
Related Roofing Services:
Roofing Services Arlington Heights, IL
Roofing Company Schaumburg, IL
Roofers Elk Grove Village, IL
Roofing Company Lake Zurich, IL
Chicago, IL Roofers
Roofing Contractors Northbrook, IL
Roofing Company Skokie, IL
---
Review by Rachel
Reliable Roofing
Rating 5

"I will recommend your company to anyone! The entire experience working with your company was a pleasure. Your Foreman explained every detail to us and we really appreciate how nice he and the entire crew was. They were all very professional and courteous."