Roof Inspection in Lake Zurich, IL and North Chicago Suburbs
Licensed and Insured up to $6 million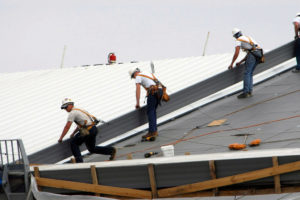 For as important as the roof is for protecting a building, many home and business owners are unaware of the condition of their roof unless they climb up there themselves.  There are some signs of potential problems with the roof that can be seen from inside, such as water damage and lower energy efficiency, but these issues can be attributed to many different occurrences.
Even if you occasionally walk on the roof of your business to check its condition, you may not notice certain issues that a roofing professional is trained to find.  This is why it is recommended to have your roof inspected by an experienced contractor that can identify minor to severe issues.
Roofing Company
Reliable Roofing is a trusted commercial roofing contractor in Lake Zurich, IL and northwest Chicago suburbs that provides full roof inspection services.  Our roofing professionals have years of experience in roof inspection and we can identify minor to severe issues with any type of roofing system.
We pride ourselves on providing ethical roof inspection services and as a member of the National Roofing Contractors Association (NRCA), you can expect us to provide quality, cost-effective solutions.  Our services are fully licensed, bonded, and insured and we offer free estimates for roof inspections.
Roof Inspection Lake Zurich, IL
It is important to have your roof inspected by professionals about once per year to identify any issues before they become major problems.  Reliable Roofing will conduct a meticulous inspection of your roof to assess its overall condition and identify possible leaks or damage.
Our roof inspection services include the following:
Budgeting and planning: The results of our roof inspection will help you plan out and budget for any repairs that are needed.
Condition evaluation reports: We will create a detailed report about the overall condition of your roof.
Leak detection: We will carefully check for any leaks so the problem can be fixed before they cause serious water damage.
Hail, storm, and snow inspection: We will look for any damage to your roof caused by a storm or severe weather.
Roof component inspection: We will check the individual components of the roof for damage including the pitch pans, chimneys and vents, drains, flashing, seams, and mortar.
Free estimate: After all reports have been created, our technicians will present customized recommendations based on their findings. These will include durable roofing products, warranties, and price estimates for installation and replacement.
Hiring a roof inspection contractor like Reliable Roofing will help you avoid serious and expensive problems with the roof of your business.  If your roof is due for an inspection, don't hesitate to give Reliable Roofing a call.
You can reach us at (815) 981-9898 for more information about our roof inspection services in Lake Zurich, IL and the north Chicago suburbs.
---
Related Roof Inspection Services and Posts:
Common Flat Roof Drainage Solutions
When to Replace a Roof on a Commercial Building
Trusted Roof Repair
Roof Leak Repair Elk Grove Village, IL
---
Review by Joe
Reliable Roofing
Rating 5

"We decided to use Reliable Roofing to install a new roof on our building because of their years of experience, excellent referrals and knowledgeable staff. We highly recommend them to anyone."