Roof Repair in Wheeling, IL and North Chicago Suburbs
Licensed and insured up to $6 million
The roof is the primary form of shelter – a basic human need.  Every home and building is protected from the elements by its roof; but when the roof becomes damaged or compromised, the building becomes vulnerable to further damage from outside elements.
There are several potential causes of roof damage, including animals, fallen tree branches, and severe weather conditions like hail, wind, and snow.  If damage occurs to your roof, it is important to react immediately and contact a roofing contractor that can repair the damage to prevent some of the common residual effects of a damaged roof.
Roof Repair Wheeling, IL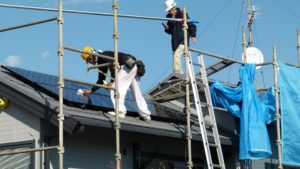 Reliable Roofing is a trusted provider of roof repair services for businesses in Wheeling, IL.  We are proud to be a member of the National Roofing Contractors Association (NRCA) and are committed to upholding the high standards of our industry with ethical, cost-effective roof repair.
Our team of trained and experienced roofing contractors repair commercial roofing while restoring peace of mind with quality results.  We are licensed, bonded, and insured for your protection, and provide free estimates for our work.
Roof Leak Repair
As a leader in the roofing industry, Reliable Roofing is dedicated to providing quality roof repair work and excellent customer service.  Our roofing contractors work exclusively with the industry's top manufacturers, so the damaged materials of your roof can be replaced with the best products.  Our team considers roof damage as a serious problem, which is why we begin service within 24 hours of your call.
You can expect the following from our roof repair services:
Hail and Storm Damage Repair: Most cases of roof damage are the result of severe weather conditions that produce wind, snow, ice, and hail. When a storm causes damage to a roof, it makes the building vulnerable to further complications from leaks.  Our technicians will fix the damage caused by extreme weather conditions and check for any leaks.
Shingle Repair and Replacement: There are many ways that the shingles on your roof can become damaged. We repair damaged materials or install quality replacements from a trusted manufacturer.
Leak Repair and Prevention: Leaks in the roof are a serious issue because the excess water can threaten the structural integrity of the underlayment, trusses, and drywall below. Our technicians identify leaks and repair them in an efficient manner.
Commercial Roof Repair: Our technicians are prepared to repair and restore damaged roofing of all types.
Roof Restoration: If general wear and tear has threatened the integrity of your roof, we provide full roof restoration services.
New and Existing Penetration Tie-Ins: Our technicians will repair or replace any tie-ins that have sustained damage.
Warranty Repair Work: We cover all of our roof repair services under the manufacturer's warranty.
Free Estimate
Roof damage can become a serious problem without immediate repairs because it leaves your business open to further damage from the elements.  Make sure you contact Reliable Roofing immediately if the roof of your business sustains damage.  We guarantee to start the repairs within 24 hours of your call.
Give us a call at (815) 981-9898 for a free estimate on our roof repair services in Wheeling, IL.
---
Related Roof Repair Services:
Roof Repair Lake Zurich, IL
Roofing Repair Elk Grove Village, IL
Roof Leak Repair Chicago, IL
Roof Repair Schaumburg, IL
Roof Repair Northbrook, IL
Roof Leak Repair Buffalo Grove, IL
Roof Repair Skokie, IL
Roof Leak Repair Arlington Heights, IL
Roof Leak Repair Crystal Lake, IL
Roof Repair McHenry County, IL
---
Review by Craig
Reliable Roofing
Rating 5

"I want to thank you and to let you know that it was a pleasure to work with the service crew that came out to repair our roof. They were on time, honest and did a great job, the office was upfront and professional. I will make sure that all my friends and neighbors know about Reliable Roofing."