Industrial Roofing in Lake Zurich, IL and North Chicago Suburbs
Licensed and insured up to $6 million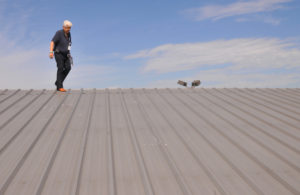 The roofing systems for industrial buildings need to be durable and long lasting to keep these buildings and the operations inside protected.  Industrial buildings are typically very large and house equipment and product that is needed for the operations of a business.
It is important for industrial roofing to be properly installed and maintained so that a roofing issue doesn't lead to a problem that results in a big loss for your company.
The best way to ensure that your warehouse or industrial building is protected is to hire trusted industrial roofing contractors who can effectively install, repair, and maintain all types of industrial roofing systems.
Industrial Roofing Lake Zurich, IL
Reliable Roofing is a professional roofing contractor that provides industrial roofing services for businesses in Lake Zurich, IL and the north Chicago suburbs.  Our highly experienced professionals can handle a range of industrial roofing services including installation, repairs, and maintenance.  We are a proud member of the National Roofing Contractors Association (NRCA) and dedicated to providing quality roofing services.
Reliable Roofing works with the top manufacturers of the industry so you can trust that the products and materials we use are the best available.  Our technicians are licensed, bonded, insured, and our industrial roofing services are covered under the manufacturer's warranty.
Trusted Industrial Roofing
At Reliable Roofing, we respond promptly to customer requests because we know that any problems with your roof could be costing your business time and money.
Our industrial roofing services cover the entire life or your roof
and include the following:
Long term, life cycle cost analysis: We will conduct a full inspection to identify possible leaks while estimating the time left remaining on the roof. This will allow for effective budgeting.
Ongoing maintenance: We offer a maintenance program to keep your roof in good shape and address any problems.
Variety of materials available: We work with quality materials for many types of industrial roofing including flat, metal, architectural sheet metal, and sloped roofing.
Repairs: We provide repairs of all kinds needed for industrial roofing in Lake Zurich, IL and the north Chicago suburbs.
Replacement: Reliable Roofing handles all aspects of  industrial roof removal and installation.
Installation: We install all types of industrial roofing systems for newly constructed buildings.
If you want the roof of your warehouse or industrial building to be cared for by the best, contact Reliable Roofing for our industrial roofing services.  We can handle all aspects of industrial roofing services throughout its lifespan, including the initial installation, ongoing maintenance, repairs, and replacement.
Contact Us
You can reach us at (815) 981-9898 to learn more about our industrial roofing services in Lake Zurich, IL and the north Chicago suburbs.
---
Related Industrial Roofing Services
Commercial and Industrial Roofing Lake Zurich, IL
Commercial Roofing Schaumburg, IL
Industrial Roofing Elk Grove Village, IL
Commercial Roofing Chicago, IL
Commercial Roofing Arlington Heights, IL
Commercial Roofing Northbrook, IL
Commercial Roofing Skokie, IL
---
Review by Craig
Reliable Roofing
Rating 5

"I want to thank you and to let you know that it was a pleasure to work with the service crew that came out to repair our roof. They were on time, honest and did a great job, the office was upfront and professional. I will make sure that all my friends and neighbors know about Reliable Roofing."