Modified Bitumen Roofing Services in Chicago, IL
Licensed and bonded up to $6 million.
The modified bitumen roofing system can be a good option for many Chicago business owners on your flat roof or low slope roof.  Reliable Roofing can consult with you on whether this system is right for your building and can install it if you decide it is.
About Modified Bitumen Roofing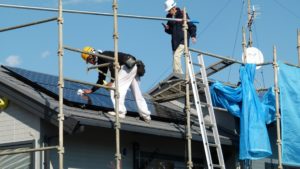 The modified bitumen roofing system was first developed in Europe during the late 60's and then introduced to the US in the early 70's. The term "modified" refers to the addition of rubber or plastic-based polymeric binders to the asphalt or "bitumen" in order to improve its durability and performance. These roofing membranes are usually manufactured using one, two, or three plies.
The modified bitumen roofing system itself actually consists of multiple layers, meaning that it is really a "factory assembled" built up roof  (Built Up Roofing, or BUR, is the traditional hot tar and gravel roof system that most people think of when they think of flat roofs.
During the manufacturing process, modifiers are added to standard roofing asphalt to replace the plasticizers that are removed during the distillation process. The bitumen is then reinforced with polyester fiber matting or fiberglass to increase its durability and strength.  Most modified bitumen systems consist of a self-adhered base sheet and a cap sheet that has a granular surface.
Modified bitumen is an excellent choice on its own, but it also makes an excellent recover system to go over an existing BUR (old fashioned tar and gravel built up roof).  Modified bitumen components are frequently used for repairs on old BUR roofs.
The benefits of modified bitumen roofing systems include the following:
Durable
Easy to repair
Flexible, contracts and expands making it suitable for rough weather conditions
Relatively Easy installation
The disadvantages of modified bitumen roofing systems include the following:
Hot process torch-down is not suitable for all buildings and substrates
More labor intensive than single ply systems
Not as resilient to ponding water as thermoplastic membranes like TPO or PVC
Breaks down when subjected to chemicals, grease and fats, like one might find on restaurant or factory roofs.
About Reliable Roofing
The contractors at Reliable Roofing are fully trained, experienced, and insured to provide complete peace of mind when installing your roofing system. While a modified bitumen roofing system might be a the right system for your commercial building, it is only as good as the installation.  At Reliable roofing, we make sure your roof is installed according to the manufacturer's specifications.  And we stand behind our labor.
At Reliable Roofing, we ensure complete satisfaction that your building will be safe from leaks and other damage after our services. When working with these roofing materials, we can provide repairs, replacements, inspections, and maintenance that are guaranteed to keep your roofing system in good condition for many years.
In addition to servicing roofs, we can install any necessary equipment, including flashing, solar panels, HVAC equipment, anchors, exhaust fans, and more. Our contractors can also work with other vendors in order to waterproof or seal additional equipment, minimizing the overall time needed to service your building.
Free Estimate
If you are still unsure or have any questions about modified bitumen roofing in Chicago, IL, don't hesitate to call Reliable Roofing at (815) 981-9898 or fill out a contact form for answers, or suggestions for a roofing system that meets your needs and budget. We can also provide a free estimate!
---
Related Roofing Services
EPDM Roofing Services – Chicago, IL
Chicago TPO Roofing Contractors
Chicago PVC Roofing Installation
---
Review by Craig
Reliable Roofing
Rating 5

"I want to thank you and to let you know that it was a pleasure to work with the service crew that came out to repair our roof. They were on time, honest and did a great job, the office was upfront and professional. I will make sure that all my friends and neighbors know about Reliable Roofing."