Roof Anchor Installation in Itasca, IL
Commercial Roof Anchor Installation
Our rooftop installation services meet OSHA requirements.
It is an OSHA requirement for commercial and multi-family homes to have an established fall protection system set in place in order for service providers to perform any amount of work on the building. But the organization has recently introduced a new ruled stating that these building must also have roof anchors installed. Now a part of the fall protection system, they must be installed properly and in the right spaces to secure lifelines and ropes.
This responsibility will fall on the building owner, according to OSHA. But Reliable Roofing can proudly provide this service for you, giving you the peace of mind you need in regards to the safety of contractors.
Reliable Roofing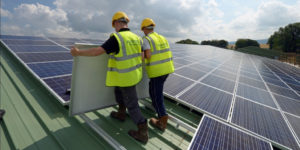 Reliable Roofing can provide professional roof anchor installation services in Itasca, IL and the surrounding suburbs. Our professionals can also conduct the annual inspection and maintenance required by OSHA as well as perform a number of other roofing services.
In addition to our training and experience, Reliable Roofing is a member of the National Roofing Contractors Association (NRCA) and is committed to providing ethical, cost-effective roofing services. Finally, our specialists are licensed and bonded up to $6 million in the state of Illinois.
OSHA Requirement for Roof Anchor Installation
To protect their safety, many contractors, including roofers, window washers, and other maintenance workers depend on fall protection systems. Now included in these systems are roof anchors. Having them installed properly in the right places is crucial to prevent any injuries. OSHA's new rule 1910.27(b) states that rooftop anchors must be able to support at least 5,000 pounds and need to be inspected, certified, and maintained.
As a result of this, all contractors will disallow their employees from performing any work until receiving written proof that these requirements are met.
Roof Anchor Installation Elk Grove Village, IL
Reliable Roofing's extensive training and experience has allowed us to service buildings of all sizes, types, and with different roofing materials in Itasca, IL.
All of the following are included in our rooftop installation process:
We will inspect the roof to determine the best spots to install the anchors.
We will cut out a portion of the roof membrane and insulation to fit the anchors.
We will fit the anchor into space, bolting it in place using concrete bolts and epoxy.
We will cover the anchor with the roof membrane and insulation to make it even with the surrounding materials.
We will seal and torch the roof membrane to make it water-resistant.
We will surround the anchor base with a curb containing epoxy to add a watertight flashing.
Before hiring any contractor to perform work on your building, it is crucial to make sure that your rooftop anchors are installed properly and in the right places. This has been made a requirement, according to OSHA, for all building owners.
Contact Us
Give Reliable Roofing a call at (815) 981-9898 for a free estimate on rooftop installation services in Itasca, IL.
---
Related Roof Anchor Installation Services:
Roof Anchor Installation Schaumburg, IL
Rooftop Anchor Installation Lake Zurich, IL
Rooftop Anchor Installation Chicago, IL
Elk Grove Village, IL Roof Anchor Installation
Rooftop Anchor Installation Lombard, IL
Roof Anchor Installation Lisle, IL
Roof Anchor Installation Northbrook, IL
Roof Anchor Installation Skokie, IL
---
Review by Craig
Reliable Roofing
Rating 5

"I want to thank you and to let you know that it was a pleasure to work with the service crew that came out to repair our roof. They were on time, honest and did a great job, the office was upfront and professional. I will make sure that all my friends and neighbors know about Reliable Roofing."