7 Roofing FAQ and Answers
Building managers are often too well aware of the abundance of commercial roofing types available. Along with the dizzying array of available roof systems comes equally differing costs, with price points being one of many chief factors strongly evaluated when beginning a roof project.
Property managers should take note of several common considerations when tackling a commercial roof project. So here is a list of 7 common roofing questions and answers to provide some insight when the time comes to repair or replace the roof:
What signs indicate the need for a new roof?
Should I repair or replace the roof?
What type of roofing system is right?
Does geography impact roofing options?
Are energy-efficient roofs available?
How much does a new roof cost?
Does the type of business influence what type of roofing system is practical?
1. What Signs Indicate the Need for a New Roof?
It's important to accurately gauge if your building needs a new roof. Commercial roofs are designed to endure. However, if you notice water stains along the ceilings and walls, mold or missing shingles, these cues must be addressed.
Indications of roof issues also include worn roof covers, flaws in the roofing seams, bubbles along the roof cover and gaps in roof flashing. The commercial roof's age and resulting gradual wear must also be taken into account.
2. Should I Repair or Replace the Roof?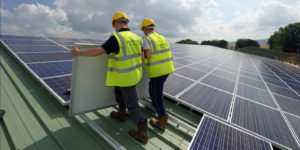 Property managers have four options when they discover flaws in their current roofing systems. Full replacement becomes necessary when over 25 percent of the roof is flawed. Or, a full replacement is ideal when managers want to utilize the latest technological developments in roofing systems and want a long-term solution.
Recover an existing roof if good insulation is in place. Recovering the roof is far less expensive than a full replacement. It is important to note that recovering a roof can only be done once. Keeping costs low leads to repairing the roof. Minor repairs extend the life of the roof. Coat the roof system to protect it from leaks. Save energy with reflective coatings that reflect UV rays away from the building.
3. What Type of Roofing System Is Right?
Roofing options can be extensive. Common types of roofing systems available in the current market include built-up roofing (roof layers are built up and bonded together); tapered insulation roofing systems (prevents standing water and is ideal for flat roofs without adequate slope); TPO roofs (are fire resistant, flexible and extremely durable); and single ply roofing (delivers exceptional weatherability over the long term).
4. Does Geography Impact Roofing Options?
The geographic location of your building plays a significant role in your roof choice. Buildings in the South experience differences in annual rainfall, wind velocity, and potential snowfall than structures in the Northeast, for instance.
Aside from weather, the direction your building faces and its roof orientation play a pivotal role in the roof system you can optimally use. Roofing experts conclude that with each building hosting unique geographical factors, a single roof system will not meet the varying needs of buildings across the country.
5. Are Energy Efficient Roofs Available?
Green businesses, especially, are more likely to be keen on using an energy efficient roofing system. Property managers may even be required to ensure their roof meets ENERGY STAR criteria. Energy efficient roofs, like reflective roof systems, make it easier to save expenses. Increasing insulation in the roofing system is an alternate method to help meet energy goals.
6. How Much Does a New Roof Cost?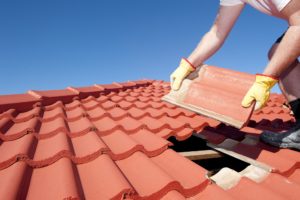 The cost of a total roof replacement is based on several variances. The most obvious size factor is the size of the roof; the more square feet involved, the higher the labor and cost of materials to complete the replacement will be. If objects protrude out of your roof, additional expenses will be needed to cut around these protrusions and seal the areas. A building's location can impact the cost as well, especially if numerous permits are required.
Average Costs of Roofing Materials
Overall, a roof replacement can be estimated to cost $2.50 to $5 per square foot for a built-up roof that features alternating layers of roofing materials, like tar or bitumen, waterproofing materials and roofing felt.
A single ply roof, often lasting 20 to 30 years (depending on weather conditions) with its single layer, ranges from $3 to $4 per square foot.
A sheet metal roof, featuring interlocking panels of metal, steel or aluminum, averages $5 to $10 per square foot and is the most expensive choice of roofing material on the market.
7. Does the Type of Business Influence What Roof System Is Practical?
Roof types differ. Retail businesses, shopping centers or hospitals, for instance, have different roofing needs than warehouse facilities.
Warehouse roofing
A warehouse unit requires a solid roof that will withstand seasons of inclement weather and that will protect the mass quantities of valuable goods housed inside.
Companies rely on warehouses to safely store equipment, supplies, and products relevant to the business. As a result, a reliable roof is critical to prevent damage and costly losses.
Retail Building
A retail building's roofing system requires a different type of commercial roof. A solid, leak-free roof is important. However, depending on the type of business, wear and tear to the roof is expected.
Exhaust that springs from restaurant buildings, for example, deteriorates the roof over time. Chemicals from dry cleaning companies also impact the roof. A retail business roof should also provide an atmosphere that exudes comfort for customers and employees.
Reliable Roofing Contractors

When addressing your commercial roof becomes a necessity, trust the services of a local commercial roofing contractor, like Reliable Roofing. Serving the Lake Zurich, Chicago, and surrounding north Chicago suburbs, Reliable Roofing is positioned to meet your business' commercial roofing needs.
Reliable Roofing is experienced in servicing office buildings, warehouses, restaurants, hospitals and churches with expertise and quality materials. Expect quality workmanship for any level of commercial roof repair, commercial roof replacement, installation, roof construction and commercial roof maintenance.
Licensed and Insured Commercial Roofing
As a licensed and bonded contractor, Reliable Roofing works tirelessly to ensure northern Illinois business properties are protected with superior and long-lasting commercial roofing. Plus, all work is insured up to $6 million.
Reliable Roofing's partnership with top manufacturers in the roofing industry ensures that the materials used by the roofing contractor are high quality. Each skilled technician is trained to operate cutting edge equipment and provide excellence in workmanship. Reliable Roofing offers a free estimate on local commercial roofing services. Any and all roofing questions are answered swiftly by the Reliable Roofing team of dedicated roofing specialists.