Roof Replacement in Lake Zurich, IL and North Chicago Suburbs
Licensed and insured up to $6 million
While commercial roofing is built to last for decades, it doesn't last forever.  There eventually comes a time when a roof has become damaged or worn out enough to justify a roof replacement.
Roof replacement is an intensive job and it is important to hire a trusted, reputable roofing company that understands how to install commercial roofing systems properly.  Allowing your old, worn roof to go for too long can lead to leaks, structural issues, and even collapse of the roof.
Insured Roofing Contractor
Reliable Roofing is a trusted name in commercial roofing as we provide full roof replacement services for homes and businesses in Lake Zurich, IL and the north Chicago suburbs.  Our technicians have experience installing many commercial roofing systems, using superior products and materials from the roofing industry's top manufacturers.
We are fully licensed, bonded, and insured to provide complete roof replacement in Illinois.  As a member of the National Roofing Contractors Association (NRCA), you can expect quality roof replacement from highly trained experts.
Roof Replacement Lake Zurich, IL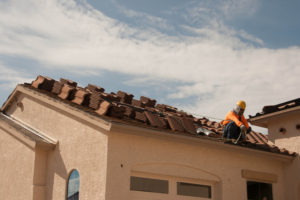 The roofing professionals of Reliable Roofing employ an in-depth, step-by-step process for replacing flat commercial roofing.
Our roof replacement process consists of the following steps:
Inspection of the current roof
Free, accurate estimate with a recommendation of the new roofing system and manufacturer warranty
Removal of your old roof
New insulation is installed for the new roof
The materials for the new roof are installed, we can properly install the following types of commercial roofing systems:
Sealing of the new roof
Final inspection to ensure that the new roof is properly installed and sealed
Contact Us for a Free Estimate
If it is time to replace the roof of your business, make sure to contact the experienced professionals of Reliable Roofing to remove your old roof and handle the installation.  We work with top roofing manufacturers, using quality materials for the new roof installation.
You can reach us at (815) 981-9898 for more information about our roof replacement services in Lake Zurich, IL and the surrounding areas.
---
Related Roof Replacement Services and Posts:
When to Replace an Industrial Roof
Roof Replacement Arlington Heights, IL
Roof Replacement Crystal Lake, IL
Roof Replacement Chicago, IL
Roof Replacement Schaumburg, IL
Roof Replacement Elk Grove Village, IL
Roof Replacement Northbrook, IL
Roof Replacement Skokie, IL
---
Review by Rachel
Reliable Roofing
Rating 5

"I will recommend your company to anyone! The entire experience working with your company was a pleasure. Your Foreman explained every detail to us and we really appreciate how nice he and the entire crew was. They were all very professional and courteous."