By their nature, low slope roofs are slow to shed their water.  Many such roofs drain to roof drains or scuppers.  However, depending on design, your commercial or industrial building may have an external gutter.  This gutter needs to be installed properly and kept clean of debris.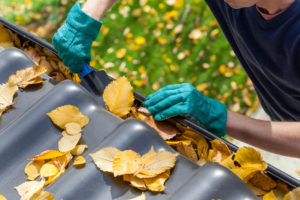 Problems with Blocked Gutters
The gutter system is a critical component to your building. The gutter leads rainwater off the roof and away from the building.  If debris accumulates, water gets trapped on the roof.  This leads to ponding water and seepage.  These lead to leaks and infiltration.  All of this leads to costly repairs and can disrupt your business operation.
Problems with Improper Gutter Installation
For most low slope installations, a shop-fabricated box gutter with an integrated drip edge flange (flanged gutters) are most appropriate.  They slide under the roof membrane and allow water to flow into the gutter without resistance.  There are a few caveats here.  The roofing perimeter must be in good condition.  The flanged box gutter is often difficult or impossible to slope, so it relies on sump action into the downspouts in order to drain properly.  If the perimeter blocking is not in good condition, the gutter will not hang properly and the sump action will not be as effective.
Another problem with gutters on low slope roofs is inadequate downspout installation.  As mentioned above, it is difficult to pitch the flanged gutter so that it drains by gravity. So proper placement and number of downspouts is critical to gutter function.   The number of downspouts is a function of the roof area being drained, the length of the gutter and the pitch of the gutter.  If there are too few downspouts, the water won't drain and the gutter will overflow.
Know When to Contact a Roofer
The gutters on your commercial building are really a critical part of the roof system.  Frequently, installing gutters requires cutting into the roof membrane and overlaying with new membrane.  This means your roof warranty could be impacted as well as the water tightness of the roof itself.  Make sure you consult with a qualified commercial roofing contractor to have this work done.
Reliable Roofing is a proud member of the National Roofing Contractors Association. Our roofing contractors work with top manufacturers to ensure only high-quality materials are utilized in every roofing project. Insured and covered under warranty, the work performed by Reliable Roofing is among the best in the industry.
Roof damage requires immediate attention. Since damage can develop into a mammoth issue quickly, all calls for service are swiftly addressed by the Reliable Roofing team. Our technicians arrive onsite within 24 hours of your call and begin work.
Free Estimate
Reliable Roofing serves the commercial properties in the Chicago suburbs and city of Chicago. Contact us at (815) 981-9898 for a free estimate on any roofing service.