With the winter season quickly coming to the Chicago area, it's important to know that the roof of your home is ready to withstand the winter conditions.  Many homeowners are unaware of the condition of their roof because you have to get on your roof and inspect it to know the shape it's in.  The fall season is the ideal time to do a roof inspection and take care of any necessary maintenance for your roof before the winter sets in.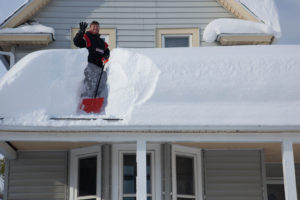 A thorough fall roof inspection will help you catch potential problems and get your roof prepared to best handle the ice and snow that our Chicago winter is sure to bring.  The following tips will help you effectively inspect your roof and do the proper maintenance so that your home is protected during the winter.
1. Trim Nearby Trees
Tree branches that are too close to your roof can cause significant damage.  Not only do trees lose their leaves in the fall and winter, but they may also loose branches that can fall on your roof.  Strong wind can also cause tree branches to go flying into your roof or siding.
What to Do:
Removing tree branches that are near or hanging over your roof will help prevent this type of damage.  Trimming and removing tree branches is a dangerous job without the right training or equipment, making it best to call a professional to handle the job.
2. Clear Out the Gutters
The first thing you should do to prepare your roof for the winter is clear out all debris from your gutters.  Over the summer and fall, sticks, leaves, and other debris gather in the gutters and create a blockage that prevents rain water from properly draining.  If the gutters are not cleaned out before the winter, the water from melting snow and ice will overflow and run down the side of the house, increasing the risk of water damage to the roof, siding, and foundation.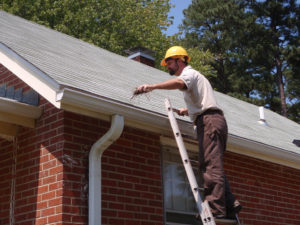 What to Do:
Use gloves or a garden trowel to remove all debris from the gutters and use a garden hose to make sure the downspouts are clear.  You should also check for puddles in the gutters and adjust them so the water drains properly.  Installing gutter guards can help reduce the amount of debris buildup in the gutters.
3. Check for Roof Damage
Checking for roof damage is an important part of fall maintenance because any minor damage to the roof can lead to major issues during the winter.  Make sure you look for the following when inspecting your roof:
Shingles: Check the shingles on your roof and look for any that have cracked, curled, or buckled. Damaged shingles must be replaced.  If there is an accumulation of shingle granules in the gutters, you may need new shingles.
Loose Materials: Roof materials will become loose as they wear out. Look for loose materials on your roof, especially around the penetrations like chimneys and pipes.
Walls and Ceilings: If there is a leak in your roof, this can cause damage to your walls and ceilings. Make sure you look for signs of water damage on your interior walls and ceilings that may indicate a leak in the roof.  Roof leaks must be taken care of in the fall so that water from melting ice and snow cannot make its way into your home.
Check the Insulation: Making sure the roof is properly insulated is especially important as the winter approaches. Proper insulation will help keep your home warmer, resulting in more efficient heating and lower energy bills.
4. Call a Roofing Contractor
Some homeowners may not feel comfortable climbing on their roof, and those that do may not know how to fix the issues that they find.  Whether you need help with roof repair, or want an experienced roofer to do the inspection, call a trusted roofing contractor like Reliable Roofing.  Our professionals have provided roof repair and maintenance services for all types of residential roofing, and we have the experience to identify any damage or potential issues.  It is highly recommended to have a professional provide a roof inspection in the fall to ensure that there are no issues that require immediate attention.
As you get ready to handle another Chicago winter, do not forget to follow these roof maintenance tips to ensure that your home will be protected from the winter weather.  If you need professional assistance to maintain your roof, contact Reliable Roofing.  We provide a range of commercial roofing services, including roof maintenance, for businesses in Lake Zurich, IL and the surrounding areas.