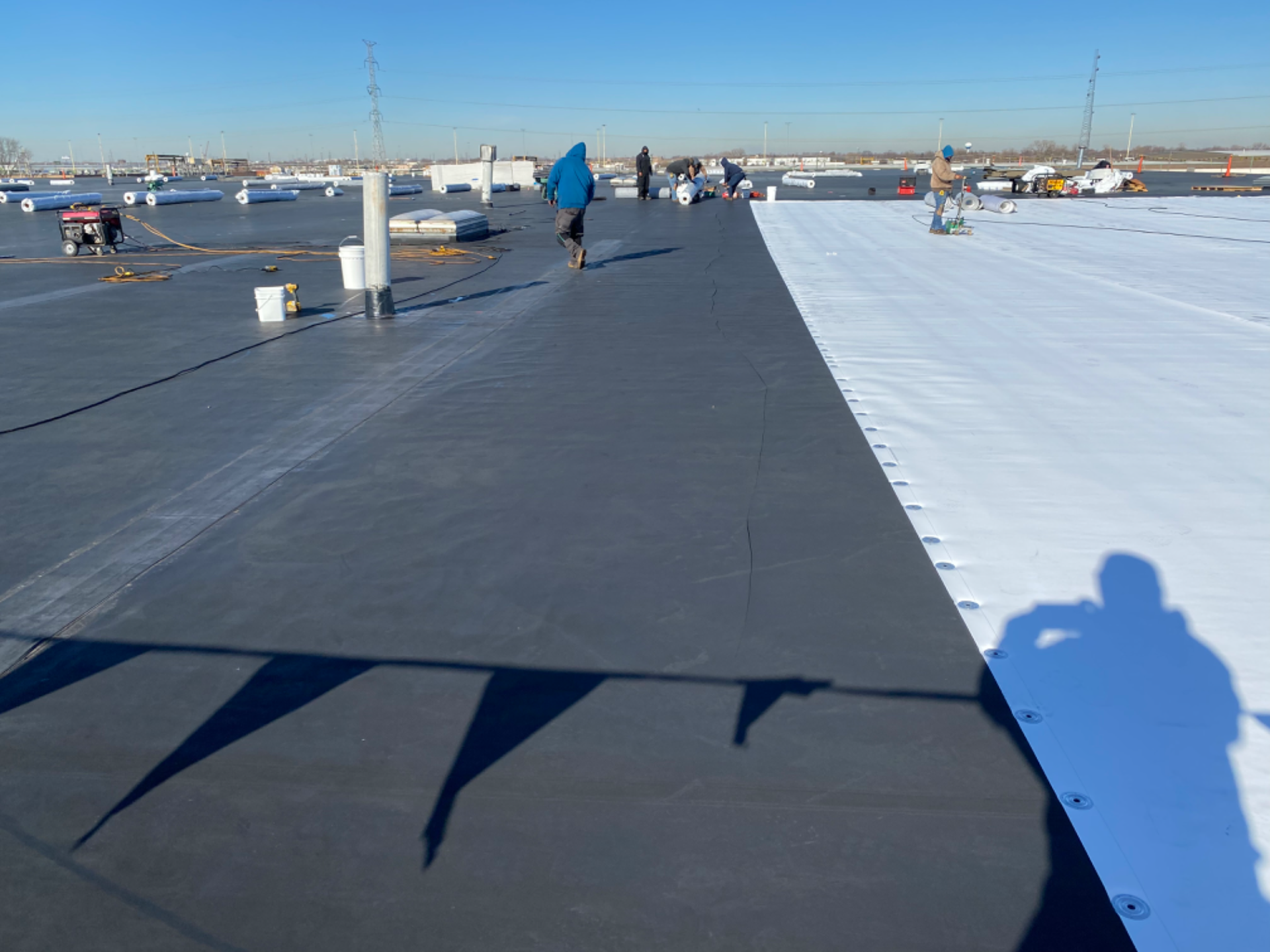 (Fleeceback TPO being installed directly over existing EPDM (rubber) roof)
In this blog we want to introduce Fleeceback TPO and discuss some of the advantages of using this premium roofing membrane.
First, what is a roof membrane?  Your flat roof is made up of several components called an "assembly".  The possibilities for flat roof assemblies are virtually endless, but the components fall into 3 general categories: the structural roof deck, insulation or other substrate board, and the waterproof membrane.  As its name implies, the waterproof membrane or just "membrane" is the part of the roof assembly that is exposed to the elements. A quality membrane which is properly installed and maintained is absolutely necessary to weatherproof your building.
Membranes come in two general categories: multi-ply and single ply.  Multi-ply membranes contain multiple sheets or "plies" which are bound together with some sort of adhesive.  Multi-ply systems are typically fabric sheets with petroleum-based binding and waterproofing agents.  Single-ply membranes have, well, one ply.  One of the most common single ply membranes in the Chicago area is TPO (Thermoplastic polyolefin).  TPO is highly reflective, usually white and is available in large sheets (typically 10' x 100') which can be attached to buildings in many different ways.  TPO seams are heat welded together to form a permanent, watertight seal.  Standard TPO comes in multiple thicknesses from 45 MIL to 80 MILs thick.  When properly installed and maintained, TPO is a very cost-effective solution for your roof.
What is Fleeceback TPO and what are its advantages?
Now that we know what TPO membrane is, we can discuss Fleeceback TPO.  Fleeceback TPO is a premium membrane that contains a heavy fabric backing which is fused to the TPO wear layer.  This backing is called fleece.  Hence the name fleeceback TPO.  The fleece backing adds thickness and strength.  Fleeceback TPO membranes come in varying thicknesses from 100 to 135 mils thick.
FleeceBACK TPO membranes are durable and quick to install and can be used for re-roofing or new construction roofing projects.  The FleeceBACK TPO membrane can be attached in multiple ways: screwed down ("mechanically fastened"), adhered, or vented (aka "vacuum" systems).  The following are the main features and benefits of FleeceBACK TPO membranes:
Toughness, durability, and enhanced puncture resistance because of the fleece reinforcement
Manufacturers claim better puncture resistance than modified bitumen, a common multi-ply system, with 67% fewer seams
Effectively resists acids, bases, impacts, low temperatures, and restaurant exhaust emissions
Excellent resistance to wear and tear from heat, solar UV, ozone, and oxidation
Excellent resistance to hail
Depending on attachment method, can be installed in lower temps.
Free of VOCs and odors
Very light weight
Manufacturers claim it is 100 percent recyclable
Because it is so light weight, under proper conditions, a fleeceback TPO membrane can even be installed as a third roof system.  (Check with the manufacturer and code authority before doing this.)
TPO Roofing Installation from Reliable Roofing
The Fleeceback TPO roofing membrane is one of the best roofing membranes on the market with superior wear, weathering, and puncture resistance; flexible attachment methods; and the ability to withstand harsh environments and conditions. When you need a new roof on your facility, consider a Fleeceback TPO membrane.
Our professionals can provide TPO roofing installation for new construction and roof replacements as well as maintenance to keep your roof in the best possible shape.
You can call us at (815) 981-9898 for more information about our TPO roofing services and products.