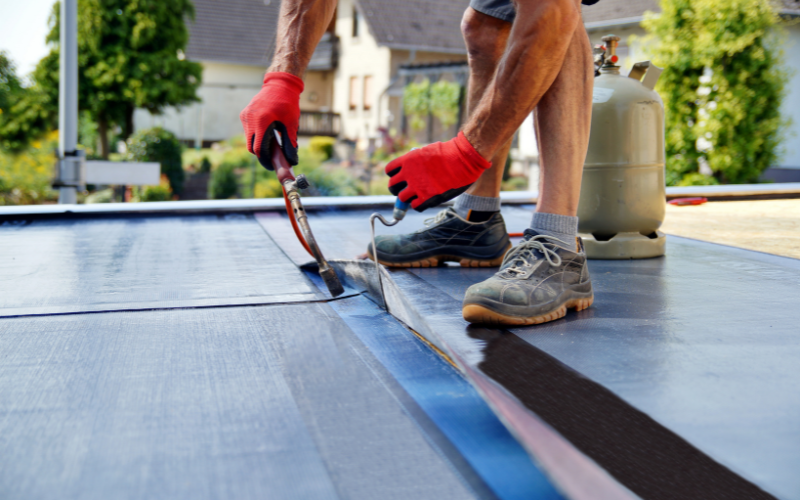 Flat roofs are installed on a variety of buildings, including office buildings, warehouses, factories, apartments, and condominiums.  While the designed lifespan of a flat roof system can be as long as 30 years, 20 is the most common useful life.  However, to achieve the designed useful life, and perhaps longer, regular preventative maintenance is the key to ensuring the flat roof endures for as long as it is manufactured to do so.
Flat roofs allow efficient use of interior space as well as surrounding grounds.  For example, HVAC units are often placed on flat roofs instead of the ground, saving valuable ground space for parking or additional building square footage.  They also allow large interior spaces with high ceilings.
Flat roofs come with a downside: Unlike steep-sloped roofs, flat roofs must be absolutely watertight.  Steep-sloped roofs need to be merely "weather tight" and not watertight because they allow water to quickly run off the roof surface.  On the other hand, flat roofs have minimal slope and are prone to slow drainage or ponding.  This means every component of a flat roof must be sealed up tight all the time or it will leak.  To ensure 100% water tightness all the time, the building owner must perform routine inspections and maintenance.  There are at least 4 reasons to pay attention to your flat roof and maintain it with trained personnel.
Reason #1: Find leaks.
Most occupants don't know about a leak until the water is running into the building.  Because water can get held up in the roof substrate before it enters the building, many leaks exist long before the occupants notice.  By then, it's too late and the building owner is playing defense against building decay.  It only takes a small opening to cause a leak.  By inspecting vulnerable points on the roof and probing seams, a trained technician can often find leaks that the occupant has not yet noticed.
Reason #2: The Manufacturer's Warranty Requires Annual Maintenance
The benefits of a flat roof can only be maximized with proper preventative maintenance. A roof is a major financial investment and should be taken care of on a regular basis. In fact, most manufacturer system warranties require that inspections and minor repairs be performed annually.
A "system warranty" is a premium warranty by which the manufacturer pays to fix leaks due to manufacturing and installation defects for the life of the roof.  A valid system warranty makes buildings more marketable and relieves the owners of some of the headaches of building ownership by taking care of leaks.
Most, if not all, manufacturer system warranties require regular maintenance by trained and qualified personnel.  If the owner neglects the roof, the manufacturer may void the warranty or decline a claim. So, preventative maintenance is a necessary part of risk management.
Maintenance clauses are in the warranty for good reason. Roof systems take an incredible amount of abuse 24/7/365.  Freeze/thaw cycles, UV damage, hail, tree branches and other debris, foot traffic and carelessness from building maintenance personnel, all contribute to a brutal environment for the roof system.  As a result, when a flat roof is correctly installed, the building owner must play his or her part and care for it. Similar to heating and air conditioning equipment, preventative maintenance is the best way to preserve the roof's lifespan.
Reason #3: Preventative Maintenance Spots Problems Early
Maybe your roof doesn't have an actual leak, but the preliminary signs could already be there.  Flat roofs, like all building components, deteriorate over time. The wear and tear on the roof can lead to problems, such as clogged drains, worn flashings, shrinking caulk and other sealant, loosened hose clamps, and open seams in membrane or edge metal—to name a few.  Regular inspections can catch these items before they worsen into full-blown leaks.
Building owners who follow a regular roof maintenance schedule save money and time. They also avoid experiencing major stress from dealing with rooftop issues that have grown to be severe. Preventative maintenance gives owners the opportunity to be proactive instead of reactive.
If a roof inspection points to minor problems, they can be fixed immediately. Taking action to resolve a small issue reduces the likelihood of a total roof replacement or renovation—both major expenses. In the long run, preventative maintenance saves building owners money.
Leaks, for example, can develop in a flat roof when the drainage system is improperly maintained. A roofing contractor who performs regular preventative maintenance can ensure that the drainage system, including gutters, drains, and scuppers, function correctly.
When a flat roof starts to leak, the moisture intrusion can lead to more serious problems, like property damage and mold growth. Mold can begin to grow quickly after water damage, and the infestation can have adverse health consequences for the building's occupants, like customers, students, and staff.  Water intrusion can also lead to corrosion of metal roof decks or decay of wood or gypsum roof decks.
By hiring a qualified commercial roofing contractor to periodically inspect the flat roof and perform necessary preventative maintenance, the building owner avoids the highly stressful catastrophes of not only structural damage and water damage, but possible mold growth. Maintenance protects customers and assets.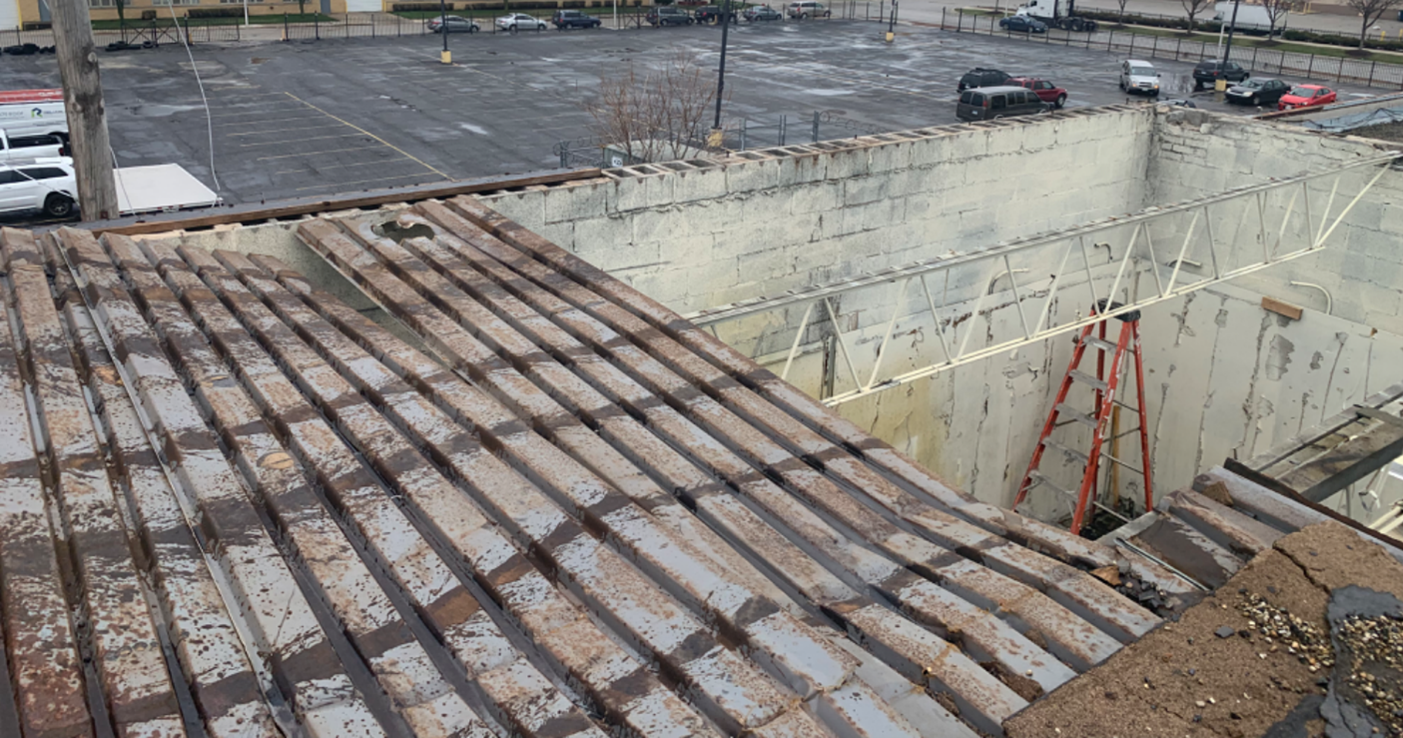 Figure 1–Wind damage to flat roof.
Reason #4: Preventative Maintenance Extends the Roof's Lifespan
Hiring professional roofing contractors to inspect a flat roof on a regular basis is a nominal cost, when compared to hiring a roofer to handle an emergency situation. So, building owners are advised to perform this necessary step in the preservation of their roof's lifespan.
Even if the flat roof appears intact and does not present any obvious issues, inconspicuous problems can manifest and are visible to the trained eye of the roofing contractor. Remember that a flat roof is constantly exposed to the elements, from thunderstorms to rain and powerful winds.
Wear and tear on the flat roof are expected as time goes on. These ongoing threats can only be mitigated by scheduling routine roof inspections and preventative maintenance. The latter ensures the roof remains continually protected from the impacts of harsh weather conditions.
A roofing professional looks for signs of wear and tear and failure of the vulnerable points on a roof.  This includes the flashings, seams, roof deck (if visible), edge metal, drains, gutters etc.   Often the interior of the building is inspected in order to catch the beginnings of any roof leaks or indications of deterioration.
If issues are discovered, the building owner can schedule immediate repairs. The flat roof can be sealed and cracks or holes can be filled. Faulty drainage systems are unclogged and fixed so that water flows off the roof correctly. These critical steps are a part of preventative roof maintenance.
Avoid spending thousands of dollars in roof repairs by scheduling low-cost roof inspections and preventative maintenance. Remember that damaged roofs cost money and can interfere with operations.
Working with a qualified and licensed roofing contractor is important for ensuring your flat roof lasts for several decades without developing serious issues. You'll find industry experience and skill from the roofing contractors at Reliable Roofing. We perform high-quality roof maintenance and roof repair.
Our company is a proud member of the National Roofing Contractors Association (NRCA). Our owner, Mike Zimmermann, is on the Board of Directors of the Chicagoland Roofing Contractors Association (CRCA).  Because of this, our technicians are highly trained in industry best practices and the latest roofing technology.  We use the best materials and products the roofing industry has to offer, ensuring our customers' complete satisfaction. Comprehensive services are offered with our roof maintenance program.
We perform full inspections, provide a report of the repair or replacement costs, and offer a manufacturer's warranty. If your roof begins to leak, our crews respond quickly to the emergency. Our maintenance program helps us detect damage from the elements and future problems.
Reliable Roofing provides premium flat roof repair services to businesses, institutions and multi family buildings. We service all single-ply systems such as TPO, PVC and EPDM.  We also service multi-ply systems such as built-up roofs (BUR) and modified bitumen systems.  Our technicians are highly trained specialists who will fix your leaks, apply coatings and liquid flashing, remove harmful debris, clean drains, replace damaged materials, and perform other repairs.  There is no better service for your flat roof than the trained hands of a professional flat roofer.
At Reliable Roofing, we stand behind the quality of our services. Commercial property owners, property managers, condo boards and manufacturers in the Greater Chicagoland area place full confidence in our knowledge and workmanship. If you need flat roof repair or would like to enroll in our roof maintenance program, call us at (815) 981-9898 right away.