What is Modified Bitumen Roofing?
Modified Bitumen systems are a modern evolution of the age-old built up roofing (BUR) systems in place on building as for 100s of years.  BUR systems consist of multiple layers of roofing felt embedded in hot-mopped asphalt.  Hot mopping is all but gone in modern roofing having lost its place to modified bitumen and single ply systems like TPO or EPDM.  But Modified Bitumen keeps many of the benefits and qualities of BUR without the intense labor and danger of hot mopped systems.
How is Modified Bitumen Installed?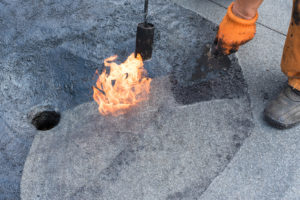 A modified bitumen roof generally consists of two layers: a base sheet and a cap sheet.  The base sheet is often self-adhered to the roofing substrate. The cap sheet is either torched down, cold adhered, or self-adhered (Modified bitumen can also be applied in hot asphalt).
There are two main types of modified bitumen sheets: SBS and APP
APP. This stands for Atactic Polypropylene, and is a thermoplastic that is placed in the asphalt to reflect UV rays while protecting against colder temperatures.
SBS. This stands for Styrene-Butadiene-Styrene, which is a rubber polymer mixed with asphalt. SBS is more akin to BUR systems.
APP has qualities of today's modern thermoplastic systems.  The differences between APP and SBS are beyond the scope of this blog.
Pros and Cons
Proponents of modified bitumen systems like the thickness and multi-ply application of the systems.  They believe that such systems have greater durability and failure resistance.  Opponents of modified bitumen systems point to mod-bit's aversion to ponding water, the extra labor needed to install a multi-ply system and the inherent dangers associated with torch down applications.
What Manufacturers Say
Manufacturers of mod-bit systems claim that, unlike single ply membranes, when properly installed, mod bit membranes have a stable thickness while single-ply membranes have annual thickness loss due to weathering.
As with all commercial roofing projects, the choice of a roofing system must match the needs of the building owner and tenants as well as the unique characteristics of the building.  Consult with one of our sales professionals about what is right for your building.
Reliable Roofing, an experienced roofing contractor, can recommend the system that is tailored to your needs and budget, as well as a quality warranty that will protect your investment for up to 20+ years.
Work with a Reliable Roofing Contractor
If you are interested in replacing your current roofing material with a modified bitumen system, it's important to work with an qualified roofing contractor. Installing commercial roofing systems is not a weekend project. It's one that takes experience and training as any mistake can lead to leaks.
When working with the professionals at Reliable Roofing, you can expect complete professionalism. We are fully licensed, bonded and insured up to $6 million, keeping you protected throughout our service. All of our new roofs come with a warranty so that you can be assured we stand behind our service.
In addition to roof replacement, Reliable Roofing is skilled in a number of services, including maintenance, repairs, inspections, and more. Proudly serving the greater Chicago metropolitan area, you can always reach out to our professionals for answers to your questions on modified bitumen roofing systems or any other commercial roofing material.
Free Estimate
To get a free estimate on a new modified bitumen roofing system, contact Reliable Roofing at (815) 981-9898 or fill out a contact form. We look forward to hearing from you soon.