Roof Replacement in Elk Grove Village, IL
Licensed and experienced.
Commercial roofing systems are manufactured and installed to last, but not forever. Determining when exactly it is time for replacement can be difficult, but if you have been noticing multiple leaks, then now would be the best time.
Reliable Roofing is available in Elk Grove Village, IL to provide professional roof replacement services for commercial building owners. Our roofing contractors are licensed and experienced when it comes to removing and installing a number of materials, including PVC, TPO, EPDM, and more.
In addition to our training, you can trust that we are licensed and bonded up to $6 million to keep you protected throughout the service. Reliable Roofing is also a member of the National Roofing Contractors Association (NRCA) as well as work in compliance with OSHA regulations to meet all building codes.
Roof Re-Covering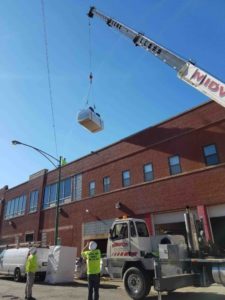 If you only have a few leaks or simply want a new look to your commercial roof, roof-recovering may be your best option. Especially if you are on a budget, this can extend the lifespan of your roof, adding on as much as 20 years. This can include anything from installing a new membrane, coverboard, or additional insulation, but the goal is to add additional protection until you are ready for replacement. Just be sure to give Reliable Roofing a call to see if your roof is eligible for this service.
Roof Replacement Elk Grove Village, IL
Our professionals are committed to providing you with a quality service. So we ensure to follow a perfected, multi-step process that is explained below.
Replacement Process
Roof inspection
Review of roofing warranties
Removal of the old roofing system
New insulation installation
Installation of one of the suggested roofing materials:
Sealing of the new roofing system
Final inspection and review of new roofing warranty
If you are constantly finding leaks from your current roofing system or are even looking to save on energy costs, Reliable Roofing can provide a solution. Soon after receiving your call, we will provide a free estimate, along with a recommendation of a roofing system that meets your building's needs and budget. Our contractors also work with the industry's best roofing manufacturers, giving you access to full warranties that are guaranteed to cover future roof repairs and maintenance.
Get a Free Quote
Contact Reliable Roofing (815) 981-9898 if your building is located in Elk Grove Village, IL or the surrounding suburbs for a free estimate on roof replacement services.
---
Related Services:
Roof Replacement Schaumburg, IL
Roof Replacement Chicago, IL
Roof Replacement Lake Zurich, IL
Roof Replacement Crystal Lake, IL
Roof Replacement Arlington Heights, IL
Roof Replacement Northbrook, IL
Roof Replacement Skokie, IL
---
Review by Rachel
Reliable Roofing
Rating 5

"I will recommend your company to anyone! The entire experience working with your company was a pleasure. Your Foreman explained every detail to us and we really appreciate how nice he and the entire crew was. They were all very professional and courteous."