Property owners have the option to choose an eco-friendly roof when the need for a roof replacement arises. Many older buildings feature the traditional asphalt shingle, which is typically less costly than eco-friendly roofing materials. Selecting an eco-friendly roof gives property owners the opportunity to make valuable contributions toward a greener environment.
Eco-friendly roofing materials, though more expensive than asphalt roofing components, offer building managers considerable benefits, since they:
require fewer repairs and replacements
offer extensive durability and
are significantly better for the environment
In contrast, the cheaper asphalt roof does not endure and is nearly impossible to recycle. Asphalt roofs, while popular, are tough on the environment, being made with petroleum-based materials that emit destructive elements into the atmosphere during the manufacturing and distribution process.
8 Eco-Friendly Roofing Options
Property managers can choose from an assortment of eco-friendly roofing materials. Following are the top eco-friendly roofing systems designed to maximize energy efficiency as well as offer a host of green benefits traditional roof types can't:
Metal roofing
Green roofing
Wood shake roofing
Slate tile roofing
Corrugated roofing
White/cool roofing
Rubber roofing
1. Metal Roofing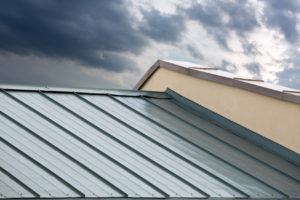 Metal roofing is pricier than asphalt roofing. However, property owners benefit from a metal roof's long-lasting durability, its light reflecting features and its full recyclability. Business owners can even select metal roofing materials that are made from recycled content as well as recycle the metal roof in the future.
Being extremely durable and offering a lifespan of 50 years, metal roofs are less likely to need replacement for a lifetime. Plus, a metal roof requires little to no maintenance. While asphalt shingles shed small particles and possibly chemicals, the smooth surface of metal roofs make water filter issues like these nonexistent.
During the summer, the metal roof reflects light, reducing energy costs. In the winter, a metal roof allows snow to cascade off, preventing ice dams. Metal roofs are also fire resistant.
2. Green Roofing
A roof upon which a garden flourishes is known as a green roof. While lowering energy costs with its natural insulation, green roofs have cleansing properties. Improved air quality is a direct result of green roofing systems.
The downside to a green roof is its high cost. Extensive and professional planning, design, and an analysis of the building's structure drive up the costs of a green roof. However, the initial costs to erect a green roof are outweighed by the long-term benefits. The green roofs are extremely durable; and, the vegetation growing along a green roof reduces summer energy expenses significantly.
3. Wood Shake Roofing
Also known as a shingle roof, the wood shake roof offers the timeless look of wood shingles. The wood shake roof is made from biodegradable shingles, making this type of roofing system natural and eco-friendly.
The downside to a wood shake roof is its flammability. Plus, the shingle roof is expensive, with prices being comparable to those of a metal roof. The limited lifespan of a wood shake roof of 15 to 25 years is less than that of the metal roof.
4. Slate Tile Roofing
A reclaimed clay roof is another term for a slate tile roof. The clay tiles in a slate tile roof offer exceptional durability, lasting up to 100 years. If your property is located in a region where summers reach scorching temperatures, a light-colored slate tile roof will reflect the sun's rays and help save on energy bills.
While slate tile roofs last longer than metal roofs, the cost of the clay tiles is far beyond that of metal roofs. Contributing to the cost of the slate tile roof is the extra reinforcement needed along the roof to support the extremely heavy clay tiles. Replacing chipped or broken tiles only increases the costs associated with maintenance.
5. Corrugated Roofing
Properties lying in the wake of harsh climates will do well with the corrugated roofing system, which has the ability to withstand severe elements. Corrugated roofs are simple to repair. Plus, a corrugated roof offers exceptional durability.
6. Recycled Content Roofing
Roofing made from recycled materials offers green benefits. Shingles made from recycled content can offer a host of aesthetic variations, from those that replicate slate tiles to those that resemble wood shake shingles. The recycled content roof also offers the durability and similar weather-proofing elements of the slate tile roofs.
Being made from recycled materials, a recycled roof will save property owners money. Warranties are often included, as well.
7. White Roofing/Cool Roofing
Cool roofs feature white asphalt shingles that reflect heat away from the building, thereby reducing energy bills, especially during summer.
In terms of price, the white roof is one of the least costly eco-friendly roofs on the market.
The cons of choosing a white roof include the fact that these cool roofs are made using asphalt shingles, which, as mentioned, are difficult to recycle.
8. Rubber Roofing
Rubber roofs are made from rubber or PVC plastic. Rubber roofing systems are durable, offering double the lifespan of traditional roofs. Plus, the rubber roof is pliable and waterproof. Summertime cooling costs are lowered due to the reflective nature of the rubber roofing.
The price of installing a rubber roof can be steep, costing nearly three to four times more than asphalt shingles. However, the long-term benefits can easily outweigh the initial installation costs.
Professional Roofing Contractors

As a property manager or business owner, your building may require a new roof at some point. You may even consider installing an eco-friendly roof for its many advantages. Contact Reliable Roofing for all your commercial roofing needs. As a professional roof installation company, Reliable Roofing offers dependable roof installation services. Included in our services are a pre-inspection of the building, installation of new insulation, installation of the new roof, and a final inspection to ensure proper sealing and installation.
Reliable Roofing is a licensed, bonded, and insured roofing contractor, offering all customers protection and peace of mind for all work performed. Reliable Roofing is a proud member of the National Roofing Contractors Association. Our team of contractors ensures its customers receive top-notch services at cost-effective rates.
Reliable Roofing serves the Lake Zurich, IL community of businesses in need of commercial roof repairs or replacements.