Roof Repair in Buffalo Grove, IL
Bonded and insured up to $6 million
The roof of your building acts as a literal shield designed to protect your valuable assets inside. However, this exposure to outside elements means that your roofing can become damaged with little warning.
At Reliable Roofing, we provide roof leak repair services in Buffalo Grove, IL to restore damaged commercial roofing, regardless of the cause. If your roof has sustained damage, our roofing contractors will respond as quickly as possible to address the damage.
Causes of Roof Damage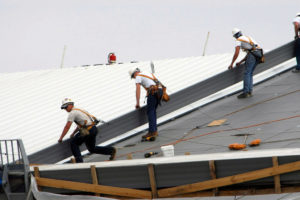 There are a variety of situations in Illinois that can lead to damaged roofing. At Reliable Roofing, our technicians are uniquely capable of handling them all. The primary causes that we typically respond to include:
Snow and ice
Heavy wind and rain
Fallen tree branches
Hail
General wear and tear
Roof Repair Buffalo Grove, IL
When it comes to commercial roofing experience and knowledge, we are proud to say that our technicians are among the best in the industry. This is in large part thanks to their intensive training, as well as dedication to their craft. Our roofers are skilled with the professional-grade equipment needed to repair damaged roofing, and can effectively operate following any type of scenario.
We are also proud to say that we are a member of the National Roofing Contractors Association (NRCA). We are licensed and bonded to provide roof repair services in the state of Illinois, and are insured up to $6 million.
Our Approach to Roof Repair
At Reliable Roofing, we understand that disasters do not wait for a convenient time to strike. This is one reason why we guarantee a response within 24 hours of your call. This is also important in order to prevent unnecessary damage. The longer damaged roofing and nearby areas are exposed to outdoor elements, the greater the risks are of serious damage taking place.
To gain a better understanding of the situations that we respond to most frequently, please see below:
Damage done to your shingles by harsh weather, animals, time, etc.
When severe storms or hail damage the flashing, soffit, or fascia of your roof
Leaks that can lead to water damage
Damaged tie-ins (these are the areas of your roof that surround penetrating objects, such as vent pipes)
Roofing damage
To absolutely ensure that you are left with a high quality, durable, and sturdy roof, we only work with top industry manufacturers. Our technicians may be topnotch, but this would not matter if the roofing materials that they worked with were of poor quality.
Free Estimate
To learn more about our commercial roof repair services, or to call in for emergency services, simply contact our representatives at (815) 981-9898. At Reliable Roofing, we service all property owners in the Buffalo Grove, IL, area.
---
Related Roof Leak Repair Services and Posts:
Roof Leak Repair McHenry County, IL
Roof Repair Schaumburg, IL
Roof Repair Chicago, IL
Commercial Roof Drainage Solutions
Roof Repair Elk Grove Village, IL
Roof Repair Arlington Heights, IL
Roof Repair Crystal Lake IL
Roof Repair Lake Zurich IL
Roof Repair Northbrook IL
Roof Repair Skokie IL
Roof Repair Wheeling
---
Review by Craig
Reliable Roofing
Rating 5

"I want to thank you and to let you know that it was a pleasure to work with the service crew that came out to repair our roof. They were on time, honest and did a great job, the office was upfront and professional. I will make sure that all my friends and neighbors know about Reliable Roofing."