Roof Repair in Chicago, IL and Northwest Suburbs
The roof of a commercial building tends to be ignored until it experiences a problem that requires attention.  Commercial roofing is built to be extremely durable and long lasting, but it is always vulnerable to leaks, storm damage, and other issues that will cause bigger problems if they are not immediately fixed.  It is important to stay on top of any needed roof repairs to save money on repair costs and keep your building well protected.
Severe weather conditions in Chicago such as thunderstorms, wind, and hail as well as other outside elements like animals and falling tree branches can cause damage to a commercial roof.  Responding immediately to these issues and calling a professional to provide roof repairs will prevent the damage from getting worse.
Roof Repair Chicago, IL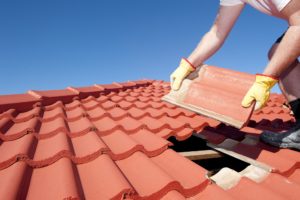 Reliable Roofing provides complete roof repair services for commercial buildings in Chicago, IL.  We are a fully licensed and bonded roofing contractor with experienced roofers who have been highly trained to provide ethical, cost-effective roof repair services.  We can handle a wide range of issues from structural damage to leaks to help preserve the life and integrity of your roof.
As a member of the National Roofing Contractors Association (NRCA), Reliable Roofing is dedicated to providing quality roof repair using materials from the industry's most trusted manufacturers.  Our repair work is backed by our warranty and we are also covered by a $6 million insurance policy.
Roof Leak Repair Services
You can count on our Reliable Roofing technicians to repair just about any problem with your roof including leaks, storm damage, and damage to the roof system.  If your roof has become extensively worn out, we can revitalize it with complete roof restoration.
Any minor problems with your roof will lead to more serious damage if they are not quickly resolved, making it important to call our professionals as soon as possible.  We always respond within 24 hours of customer requests to help limit the extent of the damage.
Our technicians can effectively provide the following roof repair services in Chicago, IL:
Storm Damage Repair: Major storms in the Chicago area may bring rain, wind, hail, and snow that can all contribute to roof damage. Physical damage caused by severe weather increases the risk of leaks which can cause interior damage as well.  Reliable Roofing can inspect your roof after a storm and repair the resulting damage and leaks.
Shingle Repair and Replacement: Animals, wind, and flying debris can cause damage to the shingles of a roof. We will either repair broken shingles or replace them depending on the severity of the damage.
Roof Membrane Repair and Replacement
Modified bitumen Repair and Replacement
Leak Repair and Prevention: Roof leaks can be extremely damaging because the water that leaks into the building can cause serious structural issues. We know how to look for and repair leaks to prevent further damage.
Roof Repair: We have the proper materials and equipment to provide high quality roof repairs.
Roof Restoration: If your roof has become excessively worn out, it is more likely to sustain damage or leaks. If it is eligible for restoration, Reliable Roofing can completely restore your roof to bring it back to an acceptable condition.
New and Existing Penetration Tie-Ins: It is important for the tie-in materials around the penetrations, unit curbs or rails and parapet walls to be in good repair to prevent leaks. We can properly tie in new additions to your building's facade or mechanical systems.
Warranty Repair Work: We are licensed by the major roof manufacturer's (Carlisle, Johns Manville, Firestone, GAF) to perform warranty repairs to their roof systems and to otherwise work on their roofs.
Get a Free Estimate Today
Roof damage can take many forms but if it is not addressed quickly, any type of roof damage can lead to more serious issues.
Contact Reliable Roofing at (815) 981-9898 if you are in need of roof repair services in Chicago, IL.
---
Related Roof Repair Services and Posts:
Roof Leak Repair Lake Zurich, IL
Roof Repair Arlington Heights, IL
Roof Repair Elk Grove Village, IL
Roof Repair Crystal Lake, IL
Wheeling, IL Roof Repair Services
Roof Leak Repair Northbrook, IL
Roof Leak Repair Skokie, IL
Roof Repair Buffalo Grove, IL
Roof Repair McHenry County, IL
Roof Repair Schaumburg, IL
---
Review by Craig
Reliable Roofing
Rating 5

"I want to thank you and to let you know that it was a pleasure to work with the service crew that came out to repair our roof. They were on time, honest and did a great job, the office was upfront and professional. I will make sure that all my friends and neighbors know about Reliable Roofing."