Turbo-Set Roof Coating Services in Chicago, IL
Turbo-Set® by Polyglass is an innovative roof coating system for commercial buildings to restore existing roofs and keep the building dry and leak free. Unlike other liquid-applied roofing systems that require multiple coats, Turbo-Set is applied in a single coat allowing faster completion of coating application and less disruptions to your business.
Reliable Roofing is always searching for the latest roofing technology to better serve our customers and is proud to offer Turbo-Set, as one of our prime roofing systems available in the Chicagoland area. Check out the groundbreaking roof coating technology and all the benefits Turbo-set has to offer.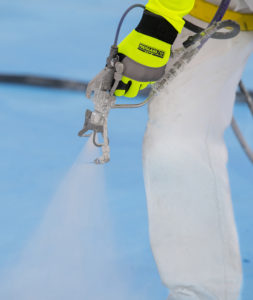 Developing the Turbo-Set Roof Coating
Polyglass USA has a strong commitment to R&D excellence and is invested in customer satisfaction.  With years of advanced research of roofing materials, formulation, systems design, and extensive application testing, Turbo-Set's innovative technology provides the perfect solution to many frustrations building owners and roofing contractors may have with traditional roof coating systems.  Instead of applying multiple coating layers of traditional roofing systems, Turbo-Set only applies one layer, cutting down on inefficiencies, weather delays, and potential costly leaks.
Turbo-Set Advanced Liquid Membrane System
Turbo-Set is a two component, water-based, liquid-applied roofing system. This system uses Blue-Cure Technology to speed up drying and cure time. The innovative technology involved in Turbo-Set simply allows for the application of the roof coating in changing weather conditions, which would normally be considered an at-risk time when installing traditional roof systems.  Using advanced state of the art proprietary equipment allows the coating to be applied in a single pass.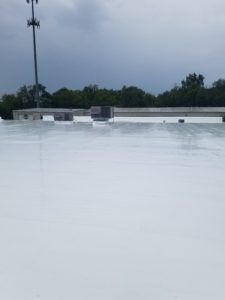 Benefits of Turbo-Set roof coating:
Fast drying and cure time
Full System Manufacturer warranties available
Fast coating application process – less disruptions to your business
Non-hazardous, environmentally friendly, water-based, and VOC compliant
Long-lasting appearance, brilliant white
Restores existing roof system, prevents tear-off, and environmentally friendly
Long-lasting lifespan – roof coating protects roof substrate from UV damage
Contact Us
For questions about this roof coating or a free estimate on its installation, please contact Reliable Roofing at (815) 981-9898. We proudly serve the Chicagoland area with commercial roofing services.