Roof Repair in Elk Grove Village, IL and North Chicago Suburbs
Licensed and insured up to $6 million
The roof is so important for protection that it has become a figure of speech for the protection it provides for a home or business.  However, there are many ways that the "roof over your head" can become damaged and compromise the safety it provides to your business.
Anything from adverse weather conditions, such as wind and hail to animals and tree branches can cause roof damage that requires immediate repair and maintenance.  In these instances, it is best to call a roof repair professional to fix the damage to your roof and prevent leaks that could lead to further damage.
Roof Repair Elk Grove Village, IL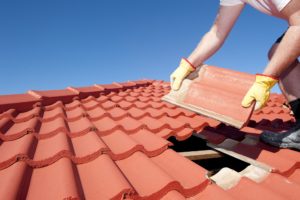 Reliable Roofing provides a variety of professional roof repair services to fix commercial roofing in Elk Grove Village, IL.  Our technicians have the training, experience, and equipment to effectively repair any problem that can affect the condition or integrity of your roof.
We are also a proud member of the National Roofing Contractors Association (NRCA), meaning that we are committed to providing ethical, cost-effective, and dependable roofing services.
Reliable Roofing is bonded and licensed to provide roof repair services in Illinois while being covered for up to $6 million with our insurance policy.
Roof Leak Repair Services
When you work with Reliable Roofing, you can expect quality roof repair and restoration services as well as products from the best manufacturers in the industry.  We are ready to respond to your call within 24 hours to address the damage to your roof quickly before it leads to further issues.
Our roof repair services include the following:
Hail and Storm Damage Repair: Adverse weather conditions including wind, hail, and snow are a common cause of damage to the shingles and other features of the roof. Roof damage from a storm can also cause bigger issues because moisture from rain and snow can find its way inside.  Our technicians will repair storm damage to your roof and ensure that there are no leaks.
Shingle Repair and Replacement: The materials are susceptible to damage from many different sources, such as animals, weather conditions, and natural wear. We will make sure that all damaged materials are repaired or replaced.
Leak Repair and Prevention: A roof leak can be dangerous because moisture that leaks inside a building can cause serious water damage to the underlayment, trusses, and drywall inside. Reliable Roofing will effectively locate and fix all leaks in the roof, as well as work to prevent leaks in the future.
Commercial Roof Repair: Our technicians can provide restoration and repair services for any type of roofing.
Roof Restoration: We restore old, worn out roofing to ensure that it keeps your home or business protected.
New and Existing Penetration Tie-Ins: We repair damaged tie-ins around penetrating objects or replace them with new material.
Warranty Repair Work: Our roof repair services are covered under the manufacturer's warranty.
Free Quote
Any damage to the roof of your business requires immediate attention to prevent further problems and protect your employees and assets.
Our roofing professionals at Reliable Roofing are available at (815) 815-9801 and will respond within 24 hours of your call to provide dependable roof repair services in Elk Grove Village, IL and the surrounding areas.
---
Related Roof Leak Repair Services:
Roof Repair Wheeling, IL
Roof Leak Repair Northbrook, IL
Roof Repair Lake Zurich, IL
Roof Repair Skokie, IL
Roof Repair Schaumburg, IL
Roof Repair Arlington Heights, IL
Roof Repair Chicago, IL
Roof Repair Crystal Lake, IL
Roof Repair Buffalo Grove, IL
Roof Repair McHenry County, IL
---
Review by Joe
Reliable Roofing
Rating 5

"We decided to use Reliable Roofing to install a new roof on our building because of their years of experience, excellent referrals and knowledgeable staff. We highly recommend them to anyone."