Roof Repair in Arlington Heights, IL
Free estimates available
Businesses and homeowners in Arlington Heights, IL, can trust Reliable Roofing to provide quality roof repair services following any sort of roof damaging event. It does not matter if your roof is suffering from standard wear and tear, or if it has been significantly damaged by a fallen tree branch or major storm. Our technicians have the experience, skill sets, and training required to provide a quality result.
Roof Repair Arlington Heights, IL
At Reliable Roofing, we pride ourselves on our unmatched levels of roofing expertise. Our roofing contractors are adept in a variety of residential and commercial roof repair services and know how to operate the professional-grade equipment required to ensure an optimal result.
It is this knowledge and experience that allows us to be a member of the National Roofing Contractors Association (NRCA). On top of this, we are insured for up to $6 million and are specifically licensed and bonded to provide roof repair services to clients in the state of Illinois.
Arlington Heights Roof Leak Repair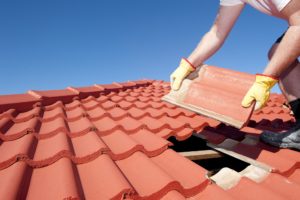 There are a number of events that can lead to roof damage, and our experts are more than qualified to handle them all. Among the most common causes of damage we see in Illinois include:
Heavy wind and rain
Hail
Snow and ice
Fallen tree branches
General wear and tear
In essence, your roof is your property's shield. If not for a sturdy roof, all of your building's contents would be at risk of getting damaged by outside elements. This is the reason why roofing must be repaired or replaced from time to time.
At Reliable Roofing, we can address the following through our roof repair services:
Hail and severe storms that damage the flashing, fascia, or soffit of your roof
Any damage done to your materials (whether by animals, time, extreme weather, etc.)
Leaks that threaten your property with water damage
Roofing damage that occurs in commercial settings
Damage done to the tie-ins of your roof (the areas around penetrating objects like vent pipes)
Another way that we ensure quality results is through our connections with some of the best manufacturers in the roofing industry. All of the repair and restoration experience in the world means little if your roof is constructed out of flimsy materials.
Through our industry connections, we will provide a stable and sturdy roof using quality parts and materials. Finally, it is important to note that we guarantee a response within 24 hours of your call. This is to ensure that your property does not experience unnecessary damage due to negligence.
Contact Us for a Free Estimate
If you are in need of roof repair services, we encourage you to contact our representatives at (815) 981-9898. We operate in the Arlington Heights, IL, area, and look forward to assisting you soon.
---
Related Commercial Roof Repair Services and Posts:
Roof Repair Contractors Chicago, IL
Commercial Roof Repair Elk Grove Village, IL
Commercial Roofing Schaumburg, IL
Roof Repair Lake Zurich, IL
Northbrook, IL Roof Repair
Roof Repair Skokie, IL
---
Review by Craig
Reliable Roofing
Rating 5

"I want to thank you and to let you know that it was a pleasure to work with the service crew that came out to repair our roof. They were on time, honest and did a great job, the office was upfront and professional. I will make sure that all my friends and neighbors know about Reliable Roofing."