Roof Repair in Northbrook, IL and North Chicago Suburbs
Licensed and insured up to $6 million
Every home and business is covered by a roof that protects it from the effects of severe weather and other outside elements.  Because the roof is constantly exposed to weather conditions like wind, rain, hail, and snow, it is likely to sustain damage that can lead to serious issues without immediate repair.
The weather is not the only possible cause of roof damage; animals, tree branches, and various debris can also damage the various components of your roof.  When roof damage occurs, you must act immediately and call a trusted roof repair professional to fix the damage and prevent further problems.
Roof Repair Northbrook, IL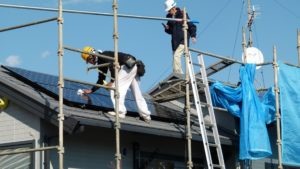 Reliable Roofing is an industry-leading roofing contractor that provides roof repair services for commercial roofing in Northbrook, IL.  Our professional staff is trained to handle any roofing service from basic repairs to roof replacement and restoration.
As a member of the National Roofing Contractors Association (NRCA), you can trust that we will provide a high standard of service and respond immediately to your requests to keep your business protected.  We offer free estimates for our commercial roofing services and our technicians are fully licensed, bonded, and insured up to $6 million.
Roof Leak Repair Services
Reliable Roofing is committed to providing the most dependable, cost-effective roofing services for the businesses of Northbrook, IL.  We always respond within 24 hours of your initial request because we understand the urgency of protecting your employees and assets.  You can also expect us to use the best available part for your roof as we have working relationships with the best manufacturers of the roofing industry.
Our complete roof repair services cover the following:
Hail and Storm Damage Repair: The roof is vulnerable to damage from severe weather conditions including hail, snow, ice, and wind. These conditions can cause damage to the shingles which often leads to leaks.  We fix the physical damage caused by storms as well as any resulting leaks.
Shingle Repair and Replacement: The shingles are the first line of defense on your roof which means they are also the most vulnerable to damage. Our technicians effectively repair and replace damaged shingles.
Leak Repair and Prevention: Roof leaks can be dangerous because they cause significant water damage to the materials underneath which can lead to major structural issues. We not only identify and repair roof leaks, but work to prevent them altogether.
Professional Roof Repair: We have the expertise to repair and maintain all types of commercial roofing.
Roof Restoration: It is normal for the roof of your building to slowly wear out over time and lose its effectiveness. We fully restore roofs of all types back to their original condition.
New and Existing Penetration Tie-Ins: We repair or replace damaged tie-in material around the penetrations in the roof.
Warranty Repair Work: The commercial roof repair and restoration we provide is covered under the manufacturer's warranty.
Roof damage can always lead to additional problems, which is why no hesitation should be taken to call a professional roof repair service. Our technicians at Reliable Roofing understand the importance of protecting your business; therefore, you can expect fast, dependable roof repair services.
Contact Us
When calling us at (815) 981-9898 for commercial roof repair in Northbrook, IL, we will respond within 24 hours.
---
Related Roof Repair Posts and Services:
Common Roof Winterization Tips
Common Flat Roof Drainage Solutions
Roof Repair Lake Zurich, IL
Roof Repair Elk Grove Village, IL
Roof Repair Crystal Lake, IL
Roof Leak Repair Schaumburg, IL
Roof Repair Chicago, IL
Roof Leak Repair Skokie, IL
Roof Repair Arlington Heights, IL
Roof Repair Buffalo Grove, IL
Roof Repair McHenry County, IL
Roof Repair Wheeling, IL
---
Review by Craig
Reliable Roofing
Rating 5

"I want to thank you and to let you know that it was a pleasure to work with the service crew that came out to repair our roof. They were on time, honest and did a great job, the office was upfront and professional. I will make sure that all my friends and neighbors know about Reliable Roofing."