Roof Replacement in Crystal Lake, IL
Insured up to $6 million.
Commercial roofing systems are – no doubt – built to last. Ranging from 20 – 50 years, the type of roof and even the warranty purchased with it can affect when it's time for the next replacement. When the time does come, it's important to know which system is best for you as well as the warranty that will best fit your needs and budget.
Over time, a roof will wear out from the elements and weather. Leaks will begin to develop and even increase the rate of damage if not repaired in a timely manner. While it only makes sense to have so many repairs made, a roof replacement will be necessary at some point.
Roofing Contractors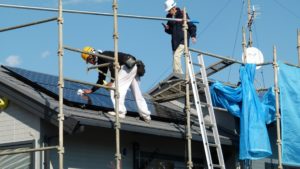 Reliable Roofing is a professional roofing company that is available in Crystal Lake, IL to provide roof replacement services for commercial buildings.  Our technicians are all experienced, insured, and trained to properly remove the old system and install the new one, preventing any chance of leaks.
Our roofing contractors are also able to install various types of roofing systems, including PVC, TPO, modified bitumen, and more. Working with the industry's top manufacturer's, like GAF, Johns Manville, and Firestone, we will ensure that your building and assets are protected against Chicago's harshest weather conditions.
Roof Re-Covering
In some cases, commercial roofs are eligible for a roof re-covering instead of replacement. This is often a more cost-effective solution that can buy building owners some time to save up for their next investment. A roof re-covering can include anything from installing a new membrane, insulation, or coverboard over the existing roof to provide additional protection. This service can provide as much as an additional 20 years to your current investment.
Roof Replacement Crystal Lake, IL
For the roofing systems not eligible for re-covering, a tear off and replacement will be necessary. As this is often a complex process that requires special equipment, training, and experience, a licensed contractor is needed to ensure the new system is installed properly.
When it comes to installing a new system, Reliable Roofing follows a unique, multi-step process to ensure that everything is installed properly to prevent the risk of leaks.
Our roof replacement services cover all of the following:
Inspection of the current roof
Free estimate to replace old system with new materials and purchase of roof warranty
Tear off of the old roof
Replacement of damaged decking
New insulation, vapor barrier, and/or coverboard installation according to the manufacturer's design and specifications.
Installation of one of the following systems:
Detailed inspection to ensure water tightness and proper installation of the materials
Having your commercial roof replaced is a big investment and you should only work with a trusted contractor. When working with a professional such as Reliable Roofing, you can expect nothing but professionalism and friendliness. We ensure to protect your investment as well as peace of mind through an efficient and effective service.
Contact Us for a Free Estimate
For a free estimate on professional roof replacement services in the Crystal Lake, IL area, contact Reliable Roofing at (815) 981-9898.
---
Professional Roof Replacement Services:
Roof Replacement Arlington Heights, IL
Roof Replacement Schaumburg, IL
Roof Replacement Elk Grove Village, IL
Lake Zurich, IL Roof Replacement
Roof Replacement Chicago, IL
Roof Replacement Northbrook, IL
Roof Replacement Skokie, IL
---
Review by Rachel
Reliable Roofing
Rating 5

"I will recommend your company to anyone! The entire experience working with your company was a pleasure. Your Foreman explained every detail to us and we really appreciate how nice he and the entire crew was. They were all very professional and courteous."