Commercial Roofing in Chicago, IL and Northwest Suburbs
Commercial Roofing Services
Roof repair, replacement, maintenance, and other services available.
Commercial buildings of all types house the most important assets of a business or institution including products, equipment, and of course, the people.  The main purpose of the building is to protect these assets, and providing good protection starts with the roof.
There are many different types of commercial roofing systems used for different types of buildings and they are typically built to last for several decades.  However, it is possible for the roof of a commercial building to sustain damage or leaks despite good maintenance, especially in a city like Chicago.  Any problem with your commercial roof must be dealt with by a trusted professional immediately to prevent more serious damage to the roof and keep your most important assets protected.
Commercial Roofing Chicago, IL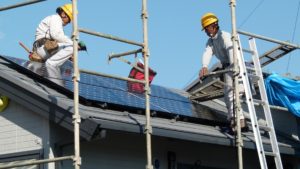 Reliable Roofing is a licensed professional contractor that provides complete commercial roofing maintenance and repair services in Chicago, IL.  We have long been trusted by a variety of businesses and institutions throughout the Chicago area to provide ethical, high quality commercial roofing services using the best materials available in the industry.  Our roofing technicians are licensed, bonded, and insured for up to $6 million to provide commercial and industrial roofing services in the city of Chicago.
Reliable Roofing is a proud member of the National Roofing Contractors Association (NRCA).  You can rely on our roofing contractors to provide effective roof repair and maintenance services to ensure that the roof of your commercial or industrial building is in top shape.
We provide commercial roofing services for the following:
Warehouses
Factories
Office buildings
Hospitals and healthcare facilities
Churches
Schools and universities
Retail stores
Restaurants
Country Clubs
Commercial Roofers
Our roofing technicians are specialists when it comes to commercial roofing and can provide complete commercial roofing services from maintenance and repair to installation in Chicago.  We also respond promptly to your service request because we know how important it is to keep the people and assets on your property adequately protected.
Our complete commercial roofing services include the following:
Commercial Roof Repair: Even the most durable commercial roofing systems can experience damage from weather, animals, and other outside sources. Reliable Roofing can effectively make repairs to any type of commercial roofing systems.
Commercial Roof Replacement: If your building is ready for a new roof, we can provide full roof replacement services.
Roof Construction / Installation: If it is time for a new roof, our technicians can install just about any commercial roofing system for many different types of buildings. We are a licensed applicator for the major commercial name brand roof systems such as Carlisle, Johns Manville and Firestone.
Commercial Roof Maintenance: Wear and tear on commercial roofing is inevitable. Reliable Roofing provides maintenance services to help reverse the effects of wear and tear and repair problems such as leaks before they cause serious damage.
Sheet Metal Roofing: More commercial buildings are using sheet metal roofing because it is extremely durable and improves a building's heating and cooling efficiency. Our technicians and industry partners can properly install and service sheet metal roofing.
Repair and Replacement of Roofing Components: If one component of your roof such as the insulation or decking becomes damaged, we can repair or replace that component.
Wide Selection of Roofing Products: Reliable Roofing has partnerships with the best manufacturers of roofing products so that we use only quality materials and components.
Get a Free Quote Today
The roofing of commercial and industrial buildings is extremely durable yet still vulnerable to damage that needs immediate repair to preserve its integrity.  If the roof of your commercial building is damaged, worn out, or in need of replacement, contact Reliable Roofing.  We provide complete commercial roofing services for a wide range of businesses in the city of Chicago.
For more about our commercial roofing services in Chicago, IL or for a free estimate, contact us at (815) 981-9898.
---
Related Commercial Roofing Services and Posts:
Commercial Roofing Schaumburg, IL
Commercial Roofing Company Arlington Heights, IL
Commercial Roofing Lake Zurich, IL
Elk Grove Village Commercial Roofing
Commercial Roofing Northbrook, IL
Commercial Roofing Skokie IL
Cost to Replace a Roof
---
Review by Joe
Reliable Roofing
Rating 5

"We decided to use Reliable Roofing to install a new roof on our building because of their years of experience, excellent referrals and knowledgeable staff. We highly recommend them to anyone."