A new roof is an expensive building improvement project, whether for a residential property or a commercial one. The typical range a property owner would spend to replace a worn roof is $5,114 to $9,765. Roofing contractors and insurance companies will quote per square foot installed. Between $3.50 and $5.00 per square foot is average, with most roofs being around 1,700 square feet. Some contractors may charge based on the square of roofing installed, or $350 to $500 per square. In roofing terms, a "square" is equivalent to 100 square feet.
When Should Your Roof be Replaced?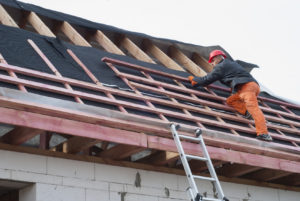 Before you head off to find the most reputable roofing contractor in the area, it's a wise move to understand when your roof should be replaced. After all, replacing a few shingles in random spots will unlikely detract from the overall aesthetic of the roof.
If your asphalt roof has just reached its 40th birthday, it's likely time to start exploring new roofing possibilities, especially within the next five to ten years. Asphalt roofs in general last up to 30 years. Some roofing specialists conclude that even 30 years of durability is a stretch, offering 20 to 25 years as the norm.
Signs to Replace the Roof
Weathering is another sign that your roof needs replacing. Curled or cupped shingles indicate potential leaks. Wind damage also causes roof shingles to crack. An entire roof replacement is necessary when cracks are visible throughout the roof and not just isolated to one spot.
If you notice asphalt granules—which protect the asphalt shingles from the sun's beating rays—in your gutter, then your timeworn roof may be halfway through its lifespan.
A sagging roof should be taken care of immediately. Structural issues or problems with the supports in the foundation can cause a roof to form a depression or droop.
When you are surprised by brilliant rays of sunshine in the attic, contact a roofing specialist right away. If sunlight enters the attic, so can rain, snow and cold air. Look for water stains and active leaks. It is far more cost effective to replace the roof as soon as possible than allow the roof to collapse or other extensive damage to occur.
Factors Affecting Cost to Replace Roof
When you've decided that a new roof is in store, you'll need to be aware of the many variations in roofing costs. Geographic location and complexity of the roof are just two factors that contribute to differing prices in a roof replacement.
Location-Based Prices for New Roofs
Roofing contractors in southern states, such as Georgia, South Carolina and Louisiana, offer less expensive roof replacement rates than for buildings in the northeast or west coasts, where the cost per square foot is nearly double. Roofs in the south may see prices as low as $2.50 to $3.00 per square foot installed. However, in the north and west, roof replacements hover around $5.00 to $7.00 per square foot.
Ranch Style Properties
Ranch style roofs are often simple, with one floor and easier access for roofing workers. Typically, a roof replacement on a ranch style building of 15 to 20 squares can range from $5,000 to $8,000. More complex roofing, such as those that include comprehensive workmanship warranties, use premium materials, or require challenging installation, will range from $9,000 to over $14,000.
Roof Complexity
All the bells and whistles along your roof will make a roof replacement pricier. Skylights, chimneys, multiple levels and the overall difficulty of the replacement contribute additional costs to the project. On the low end, business owners will see $2.75 per square foot. On the higher end of the spectrum, commercial property owners can expect to pay up to $7.00 per square foot to complete these complex jobs.
Choice of Shingles
Asphalt Shingles
Asphalt shingles are the most cost-effective type of material to use to keep out the weather and yet retain an attractive look. Organic shingles and fiberglass shingles are the two types of asphalt shingles available on the market. Organic shingles have a higher asphalt content, which makes them more flammable. Fiberglass shingles have more fire-resistant features and are increasingly becoming the prime choice of roofing material.
Asphalt shingles are also easy to install, allowing roofing contractors to assume the task with ease. Available in a vast range of colors and patterns, asphalt shingles can easily be customized to fit your existing property. The 3-tab shingle is the least costly of all asphalt shingles, at $75 to $90 per square. Architectural style shingles offer a pleasing, 3-dimensional look and hover around $140 to $180 per square. Premium asphalt shingles include a limited lifetime warranty and range from $225 to $250 per square.
Metal Roof Shingles
Metal roofs are an alternative to asphalt rooftops. Metal shingles provide extensive durability, energy efficiency and contain no asphalt. Property owners who choose metal roofs can expect to pay $5.50 to $12.00 per square foot. A ribbed steel roof may be more cost effective, at $3.00 to $6.00 per square foot installed. Remember that the price of a metal roof replacement is affected by your property's geographic location, roof style, choice of metal and the involved complexity of the work.
Free Cost Estimate to Replace Roof

Reliable Roofing is the most trusted roofing contractor serving Lake Zurich, IL and its surrounding communities. Serving local businesses, we pride ourselves on using premium roofing materials and working with top roofing manufacturers to complete every job with exceptional skill.
The commercial roofers at Reliable Roofing tackle the roof project from start to finish, removing the old roof, adding insulation, and installing the new roof. Our team of professional roofers carefully inspects the final work to ensure the installation is sealed properly and completed with precision.
Reliable Roofing is fully licensed, insured and bonded to offer business owners complete peace of mind. We are also a member of the National Roofing Contractors Association. If your northern Chicago commercial property requires a new roof, contact the most trusted name in the commercial roofing industry, Reliable Roofing, to dependably pre-inspect your current roof and take steps to expertly install a new one that will last for decades.