Roof Anchor Installation in Northbrook, IL
Free estimates available.
Not many commercial building owners are aware of the requirements for rooftop anchors, but they are actually common and very important in order to perform a number of services on the roof. Used in fall protection systems, they hold ropes and lifelines to prevent falls. They must also be installed properly and at the proper points in order to comply with OSHA requirements.
The agency's strict regulations regarding the anchor's installation, maintenance, and capabilities require that building owners must be in compliance in order for any contractors to perform work on the roof. So it's important to have an experienced professional install and maintain them properly.
Roofing Contractors Northbrook, IL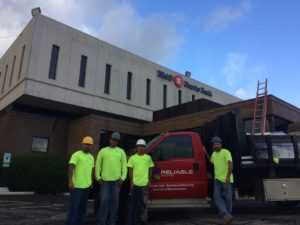 Reliable Roofing can provide professional roof anchor installation services in Northbrook, IL and the surrounding suburbs to ensure that you are in compliance with OSHA requirements. Our roofing technicians have extensive experience and training to install all anchors properly. As a roofing company, we know that a strong fall protection system is crucial, which is why we undergo frequent training to ensure that your building is kept up to date at all times.
Reliable Roofing is also a proud member of the National Roofing Contractors Association (NRCA) and is committed to providing quality, cost-effective, commercial roofing services, using the latest equipment in the industry. Our technicians are also licensed and bonded up to $6 million to keep your investment protected throughout the entire service.
OSHA Requirements
In order to perform any kind of work, roofers, window washers, and other contractors depend on the commercial building's fall protection systems to keep them safe. They are set in place by OSHA, which enforces strict rules regarding the installation and maintenance of roof anchors. This requirement falls under rule 1910.27(b), which states that the owner of a building is responsible for having these anchors set in place and that they must support the weight of over 5,000 pounds. They will also be inspected annually to ensure that they remain in good condition.
For any building that requires window washing or work done on the roof, the owner must provide written proof that all anchors have been tested, maintained, and certified. It is also the responsibility of the employer to disallow any of their employees from performing this work until they have seen this documentation.
Our roof anchor services consist of the following steps:
Reliable Roofing will determine the proper location for each anchor, cutting into the membrane and insulation to fit the size of the anchor.
The membrane and insulation are removed and holes are drilled into the roof deck.
The anchor is fitted into the cut out space and bolted in place using concrete bolts and epoxy.
Insulation is installed around the roof anchor and covered with a layer of the roofing material.
The top layers of the roof membrane is torched to form a watertight seal over the anchor.
A curb is poured around the roof anchor to create a watertight flashing.
Free Estimate
Regardless if you need new anchors installed or your current ones inspected or repaired, feel free to reach out to the professionals at Reliable Roofing. We will provide you with a free, accurate estimate that includes the procedures of all work performed so your building can stay in compliance with OSHA regulations.
Contact Reliable Roofing at (815) 981-9898 for a free estimate on roof anchor installation services in the Northbrook, IL.
---
Related Roof Anchor Installation Services:
Roof Anchor Installation Chicago, IL
Roof Anchor Installation Itasca, IL
Roof Anchor Installation Elk Grove Village, IL
Rooftop Anchor Installation Lake Zurich, IL
Rooftop Anchor Installation Schaumburg, IL
Rooftop Anchor Installation Lombard, IL
Roof Anchor Installation Lisle, IL
Roof Anchor Installation Skokie, IL
---
Review by Craig
Reliable Roofing
Rating 5

"I want to thank you and to let you know that it was a pleasure to work with the service crew that came out to repair our roof. They were on time, honest and did a great job, the office was upfront and professional. I will make sure that all my friends and neighbors know about Reliable Roofing."