Roof Replacement in Chicago, IL and Northwest Suburbs
Roof Replacement Services
Roofing material warranty included for roof replacement services in Chicago, IL
Most Chicago commercial / flat roofing systems are designed to last 20 years.  Some were designed for 30 to 40, but those systems are rare.  Most building owners have tried to get 25, 35, or even 50 years out of their roof.  At some point, the owner has done all the repairs it can possibly do and it is simply time to replace the roof system.
Roofs wear out over time by weather and the elements, and even sustain serious damage from outside sources such as workers performing maintenance on roof top equipment.  If the roof of our building becomes too damaged or worn out, it may be time to have it replaced.
Worn out and damaged roofing systems are much more susceptible to leaks and structural damage that can increase the risk of collapse.  It is very important to hire an experienced and trusted roofing contractor to handle the intensive job of fully replacing a commercial roofing system.
Reliable Roofing is a licensed roofing contractor that can provide complete roof replacement services for commercial buildings in Chicago, IL.  We will work with you to determine whether your roof can be re-covered (add a second roof) or whether it needs a full tear-off and replacement.
Roof Replacement Chicago, IL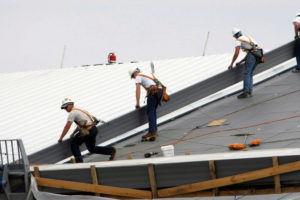 We can install any type of roofing system for a wide range of commercial and industrial buildings and we use the best roofing materials available from the most trusted manufacturers of the roofing industry.
Our technicians are licensed to replace commercial roofing in the state of Illinois and we are fully bonded and insured for your protection.  Reliable Roofing is also a member of the National Roofing Contractors Association (NRCA) which means that we are dedicated to providing ethical, cost-effective roof replacement.
Roof Re-Cover Services
If your existing roof is eligible, we will advise a cost-effective roof re-cover design for your building.  This involves a number of options.  It may be as simple as rolling a new membrane over the existing roof.  Or it may involve installing a cover board or some insulation.  But a roof recover is typically a cost effective way to get 20+ more years out of your roof.
Roof Replacement Services
Not all roofs are eligible for re-covering.  This may be due to the existence of 2 or more roofs already or damage which is too extensive to be remedied by a re-cover.  In this case, it is time for a tear off and replacement. Roof replacement in Chicago, IL is a complex process that requires the right equipment, as well as a high level of expertise to ensure that the new roof is properly installed.  Reliable Roofing technicians carefully follow a step-by-step process to ensure that there are no mistakes made when replacing the roof.
We will complete the full roof replacement with the following steps:
Initial inspection of current roof
Complete removal of the old roof
Replacement of damaged decking
Installation of the new insulation, and/or vapor barrier and/or cover board all as specified in the roof design and according to manufacturer's specifications.
Installation of the new roofing materials. We can install the following roof types:
Thorough inspection to double check the installation and water-tightness
Replacing the roof is a major effort that should only be done by a trusted roofing contractor.  If you need to replace the roof on your building in Chicago, IL, contact our professionals at Reliable Roofing.  You can expect high quality roof replacement services as well as superior products and materials.
Get a Free Estimate
Give us a call at (815) 981-9898 to learn more about our roof replacement services in Chicago, IL.
---
Related Roof Replacement Services and Posts:
Roof Replacement Skokie, IL
Roof Replacement Lake Zurich, IL
Building Owners Now Allowed to Expense New Roof in 1 Year
Roof Replacement Arlington Heights, IL
Roof Replacement Schaumburg, IL
Roof Replacement Elk Grove Village, IL
Roof Replacement Northbrook, IL
Roof Replacement Crystal Lake, IL
---
Review by Rachel
Reliable Roofing
Rating 5

"I will recommend your company to anyone! The entire experience working with your company was a pleasure. Your Foreman explained every detail to us and we really appreciate how nice he and the entire crew was. They were all very professional and courteous."