Roof Replacement in Arlington Heights, IL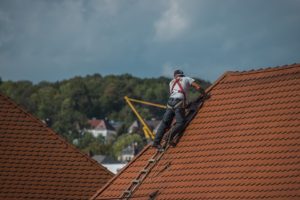 Experienced and insured up to $6 million.
Commercial roofing systems can do a lot to protect the building's interior from water damage. But nothing lasts forever; they will all need to be replaced at some point.
Replacing an entire roof on a commercial building is not a DIY job. It requires training and experience in order to be done properly and to avoid injuries in the process. That's why it should be done by a professional, reputable, and licensed roofing contractor. Otherwise, you'll be finding leaks, ponding, and building code violations.
Roof Replacement Arlington Heights, IL
Reliable Roofing can provide professional roof replacement services for residential and commercial buildings located in or near the Arlington Heights, IL area. Our roofing contractors are each trained, licensed, and insured to properly install the commercial roofing system of your choice. We also guarantee both satisfaction and peace of mind during and after the service to keep your building and investment protected at all times.
Roof Re-Covering
If you just want a redesign or switch out the top layer of your roof for aesthetic purposes or to save on energy costs, you may qualify for a roof re-covering. Doing this will not only fix those issues, but can actually extend the lifespan of your roof, giving you more time to save for your next big investment. Give Reliable Roofing call to see if this is a service for which you qualify.
Roofing Contractors
Our experienced roofers follow a unique-multi-step process for replacing your roof to provide the best results for your building.
Our roof replacement services include all of the following steps:
Inspection and free estimate to replace roof
Recommendation of new material and warranty
Tear off of old roof system
Installation of new insulation
Installation of one of the following roofing systems:
New roof sealing
Final inspection of new roof
Schedule a Free Estimate
If you are experiencing a lot of leaks or high energy costs with your current roof, don't hesitate to reach out to our professionals at Reliable Roofing for professional roof replacement. We work with the top manufacturer's, including GAF, John Mansville, Firestone, and more.
Give us a call at (815) 981-9898 or a fill out a contact form to receive a free estimate on professional roof replacement services in Arlington Heights, IL.
---
Related Roof Replacement Services:
Roof Replacement Chicago, IL
Roof Replacement Schaumburg, IL
Roof Replacement Elk Grove Village, IL
Lake Zurich, IL Roof Replacement
Roof Replacement Northbrook, IL
Roof Replacement Skokie, IL
---
Review by Rachel
Reliable Roofing
Rating 5

"I will recommend your company to anyone! The entire experience working with your company was a pleasure. Your Foreman explained every detail to us and we really appreciate how nice he and the entire crew was. They were all very professional and courteous."