Commercial Roofing in Arlington Heights, IL
Insured up to $6 million.
Commercial buildings are different than residential properties in a number of ways. Due to the equipment, roofing materials, and OSHA regulations on commercial roofing, it's not something that can be handled with a simple set of tools.
There are a number of different roofing systems specifically designed for commercial buildings, and they typically last longer than residential roofing materials. But nothing lasts forever, so maintenance, repairs, and even replacement will be needed in order to keep the building and its assets protected. This job must be handled by a licensed professional.
Commercial Roofing Arlington Heights, IL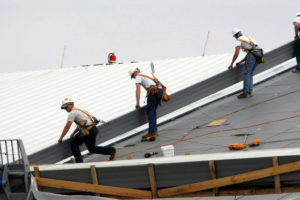 Reliable Roofing is available in Arlington Heights, IL and the surrounding communities to provide flat roof and commercial roofing services. Our contractors have been locally known to provide efficient, professional services that are tailored for each commercial property.
We install a number of different materials, including EPDM, TPO, PVC, modified bitumen, and more in order to provide each customer with the best results. We can also recommend a quality warranty that will keep your investment and building protected long after the installation.
About Our Professionals
Reliable Roofing is a proud member of the National Roofing Contractors Association (NRCA), allowing us to stay updated on the latest trends and manufacturer news in the industry. Our experts are also licensed, trained, experienced, and insured up to $6 million to keep you fully protected throughout the service.
We can service commercial buildings with a number of different services, including inspections, maintenance, repairs, equipment installation replacements, and more, allowing you to work with one contractor for all of your roofing needs.
Our commercial roofing services proudly service all of the following properties:
Warehouses
Factories
Condominiums and apartments
Country clubs
Retail stores
Office buildings
Schools and universities
Restaurants
Churches
Healthcare facilities and hospitals
Our commercial roofing contractors can provide all of the following services:
Roof Repair: Commercial roofing systems are significantly stronger than those on residential properties, but they are still at risk for damage. When this happens, Reliable Roofing will respond right away to provide any and all repairs needed before the next rainfall.
Roof Replacement: Our professionals will work with you to determine if replacement is necessary and provide a recommendation for a new system and warranty for your building.
Roof Installation: We work with a number of the industry's top roofing manufacturers, including John Mansville, GAF, Firestone, and more, and in order to install quality roofing systems for our commercial clients.
Maintenance: We can schedule frequent inspections and repairs to ensure that your commercial roofing system stays in its best condition, allowing you to take full advantage of its lifespan.
Roofing Equipment Installation: Equipment such as roof anchors, flashing, scuppers, gutters, are all necessary to have on rooftops. Reliable Roofing is fully equipped and experienced when it comes to installing a number of components.
Free Estimate
For more information on our commercial roofing services in Arlington Heights, IL, or a free estimate, please contact Reliable Roofing at (815) 981-9898 or fill out a contact form. We look forward to working with you soon!
---
Related Commercial Roofing Services:
Commercial Roofing Chicago, IL
Commercial Roofers Schaumburg, IL
Commercial Roofing Elk Grove Village, IL
Lake Zurich, IL Commercial Roofers
Commercial Roofing Northbrook, IL
---
Review by Joe
Reliable Roofing
Rating 5

"We decided to use Reliable Roofing to install a new roof on our building because of their years of experience, excellent referrals and knowledgeable staff. We highly recommend them to anyone."