Finding hail damage on your car or home's siding – such as the big round dings – can be easy to find, let alone being noticeable.  But finding the damage on a roof is a little more involved.
Keeping your roof in good condition is vital towards preventing leaks and structural damage. When addressed in its early stages, you can avoid additional problems from rain as well as improve the chances of your insurance company covering the repair costs.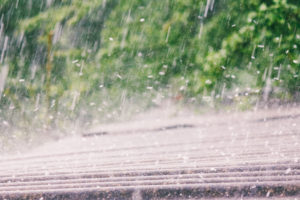 On the other hand, insurance adjusters will often require the problem to be assessed by a professional roofing contractor before agreeing to pay for the damages.
If you are still unsure about hiring a professional, here are some steps on how to find the hail damage yourself.
1. Inspect for Small Dents on the Metal
Remember that your safety is the first priority when going up on the roof, and make sure to beware of these hazards. Here are a few tips to review before going up:
Ensure that the ladder is in proper working condition
You are wearing soft-soled shoes or roofing boots
You bring a few sticks of chalk to mark damaged areas
Bring your camera to take pictures
Once you are up on the roof, inspect all metal roof vents, valleys, and flashing for dings and dents. Especially if the metal is soft, it faces a higher risk of damage and will even show evidence of the size of the hail.
2. Examine the Top of the Roof
If you have a sloped roof, be sure to check the ridge cap for dents. This area will receive the most dings due to its flatness and disadvantage of getting hit directly. Also, if there are shingles, be sure to check each shingle, especially the edges, for nicks and/or deterioration.
3. Identify the Hail Damage
Hail damage most often consists of bruising, missing granules from asphalt, and cracking. If your roof contains asphalt shingles, check out the tips provided below.
Inspect for missing pieces of asphalt in each shingle. If there is any black substrate exposed, mark it with a piece of chalk. This is a common sign of damage that the material was compromised by hail.
Check for bruising in the shingle. You may not always be able to see visible dents from the hail, but if you press any of the small dimples on the surface of the shingle and it feels soft, it is a sign of deterioration. If there are large areas of it present, you may want to consider replacing the roof.
Look for cracks in the shingle. Normally present in larger hail storms, circular cracks can be found in the shingles.
Metal Roof Hail Damage
While metal roofing is less likely to sustain damage from hail due to its durable material, it is still possible if the hailstone size was large or the metal is deteriorating. But if it does occur, spotting the damage on metal roofing is not nearly as tricky as it is for shingles.
Simply look for the dents in the metal. If you are unsure whether or not the damage renders it necessary for repair, feel free to contact Reliable Roofing, a professional commercial roofing company that proudly serves the Chicagoland area.
Hail Sizes that Will Cause Damage
As there are various different roofing materials, each have their own pros and cons. The type of material, for example, can be damaged depending on the size of the hail. Check out the list below to determine the size of hailstone that can damage your roof.
Organic asphalt shingles – 1"
Fiberglass asphalt shingles – 1 ¼"
Cedar shingles 1 ¼"
Fiber concrete tiles – 1 ½"
30-year laminated shingles – 1 ½"
Gravel roofing – 2"
S-shaped concrete tiles – 2"
What to Do After Finding Hail Damage
If you think you have hail damage, don't hesitate to call a professional roofing contractor for a roof inspection.
If the inspector does find damage, go ahead and file a claim with your insurance provider. Whether or not they will pay for the damage or even pay for a new roof will depend on your policy and provider. A professional roofer can also determine the difference between function and cosmetic damage, or whether or not it is a priority to be replaced.
What to Do After Finding Damage Not Caused by Hail
While hail can be the most destructive to any roofing material, due to it's speed and hard impact. But other factors, such as rain, wind, flying debris, and even sunlight can take their toll in the deterioration of a roof. Over time, the materials will weaken to the point of frequent leaks, developing the need for replacement sooner than later.
On the other hand, frequent inspections and maintenance will allow you to get maximum usage from your roof. Reliable Roofing offers a maintenance program that includes regular inspections and routine repairs along with document management to track appointments, inspections, repairs, and more. This way, you can get the most out of your roof with the peace of mind of not having to worry about encountering leaks after each rainfall.
Finding a Roofing Contractor

If you live in the Chicagoland area and have found hail damage on your roof, don't hesitate to contact Reliable Roofing. Our technicians will respond within 24 hours of your call, will provide a free estimate, and explain exactly what needs to be done in order to provide an effective and cost-efficient service.
Reliable Roofing is also licensed and insured up to $6 million to ensure the most professional service. From inspections to repairs and replacements, our contractors will work with you to determine what is needed for your roof and will use roofing materials manufactured from the industry's most trusted suppliers.
Give us a call at (815) 981-9898 for a free estimate or more information about whether or not you may have hail damage on your roof.