Roof Anchor Installation in Skokie, IL
Licensed and insured up to $6 million.
Roof anchors are a regular feature on the tops of tall commercial buildings. They are instrumental in securing equipment and people via ropes and lifelines. In order to work effectively, these fall prevention systems must be installed in proper locations while adhering to OSHA regulations.
At Reliable Roofing, we meet these specifications and more through our roof anchor installation services. If your building is located in the Skokie, IL, area, we encourage you to call our experts if you need a roof anchor system installed on your commercial building.
Roof Anchor Installation Skokie, IL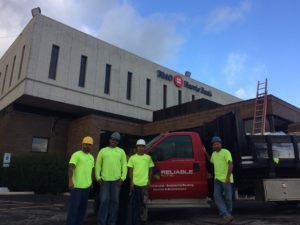 Roof anchor installation is an important job that will literally affect the lives of those who utilize the system. At Reliable Roofing, we go to great lengths to guarantee an effective result. All of our roofing contractors are highly trained in OSHA's roof anchor installation regulations and understand the importance of a secure system.
As a company, Reliable Roofing are a proud member of the National Roofing Contractors Association (NRCA), and are committed to providing ethical, cost-effective roofing services while utilizing the best practices and products in the industry.
OSHA Roof Anchor Requirements
As one might expect, the regulations surrounding roof anchor systems are relatively tight and specific. This is because window washers, roofers, and other workers depend on these fall prevention systems to do their jobs safely.
For example, OSHA rule 1910.27(b)(1)(i) stipulates that the building owner must ensure each anchorage has been tested, certified, and maintained to support at least 5,000 pounds in any direction for each employee attached. At Reliable Roofing, we will help you adhere to this policy and a wealth of others.
Roof Anchor Installation
When you choose to leverage our reliable roof anchor installation services, we will perform the following:
Identify proper anchor point locations
Cut out the roof membrane and insulation, and drill holes into the concrete deck, to fit and secure the anchor
Secure the anchor to the roof deck with concrete bolts and epoxy
Install insulation around the roof anchor, and cover it with a layer of roof membrane so that it is even with the remainder of the roof
The top sheet of the roof membrane is torched over the base sheet, and sealed with caulk around the anchor for a watertight seal
Create a permanent, watertight flashing using a special curb containing epoxy poured around the roof anchor
At Reliable Roofing, we can install your new roof anchors, and provide annual inspections to help you meet OSHA safety requirements. At the end of the day, many people's lives will count on your fall prevention systems.
Free Estimate
We offer our roof anchor installation and maintenance services to property owners in Skokie, IL, and the surrounding areas. To schedule a free estimate, contact our representatives at (815) 981-9898.
---
Related Roofing Services:
Roof Anchor Installation Lake Zurich, IL
Roof Anchor Installation Lombard, IL
Rooftop Anchor Installation Lisle, IL
Roof Anchor Installation Chicago, IL
Roof Anchor Installation Elk Grove Village, IL
Rooftop Anchor Installation Schaumburg, IL
Roof Anchor Installation Itasca, IL
---
Review by Craig
Reliable Roofing
Rating 5

"I want to thank you and to let you know that it was a pleasure to work with the service crew that came out to repair our roof. They were on time, honest and did a great job, the office was upfront and professional. I will make sure that all my friends and neighbors know about Reliable Roofing."