As you can tell, there are a number of roofing options to choose from if you are in the market for roof replacement. One popular option includes a rubber roof, or EPDM (ethylene propylene diene terpolymer) roof. As with other roofing investments, there are pros and cons to this materials.
Here you will learn about the advantages and disadvantages of EPDM roofing in order to determine if this is the best fit for your commercial building. If you are still unsure, you can also reach out to an experienced roofing contractor for a professional suggestion.
Advantages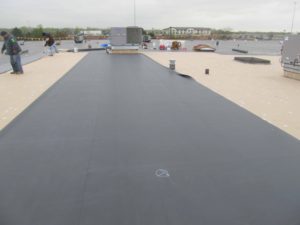 1. Cost
Compared to other types of roofing, the cost of EPDM is generally very low. It's also a great option that is commonly chosen for low-sloped roofs. While the contractor and manufacturer costs will vary, this material is mostly chosen by price-conscious building owners.
2. Eco-Friendly
While the majority of EPDM roofs are black, they can also be white, allowing them to reflect UV rays and even reduce energy costs. They are compatible with rooftop gardens and solar cell arrays. This material is also lightweight, allowing it to adapt to any shape or style of the roof while providing the same advantages.
In addition, very little effort or materials are required to manufacture this material, and it's 100% recyclable!
3. Fire-Resistant
Not only is this material fire-resistant, but it actually slows down the progress of fires.
4. Long-Lasting
You can expect an EPDM roof to last around 20 years or longer, provided that it is installed correctly. In fact, new manufacturing formulas have allowed this material to become impervious to radiation and damage from UV rays. They are also resistant against wind and hail of up to 3 inches. You can also depend on them to be leak-proof, given that the material is fairly new.
5. Lower Energy Costs
EPDM is easily paired with polyiso insulation. As mentioned above, it also comes in white color.  These two attributes mean that it is energy efficient.   Properly installed, this material can be great for keeping out the sun's heat as well as keeping heat in the building during colder temperatures. EPDM can also be coated to prolong its life and provide additional reflectivity and hence, greater energy efficiency.  There are different material thicknesses to choose from, including 45, 60, 75, and 90 mil.  The cost to install does increase for thicker materials. But regardless of the size, an experienced roofer, like Reliable Roofing, can install this for you.
Disadvantages
1. Installation Cost
Yes, we said cost was also an advantage of EPDM.  It is true that ballasted EPDM systems are relatively inexpensive roofing systems when compared to others.  However, fully adhered or mechanically attached systems are slightly more expensive that EPDM's thermoplastic rival, TPO.  Because cost can be both an advantage and a disadvantage to this system, your contractor must be very knowledgeable about what installation method best fits your building's unique needs.  Beware of companies claiming to know this material but who actually have no experience with it.  Many roofers who claim to know how to install this material properly are not trained to do it correctly.
2.Relatively Fragile in the Wrong Environment and at End of Its Life
Many manufacturers do offer reinforced EPDM, but EPDM is most common in its non-reinforced form.  Non reinforced EPDM punctures more easily.  This is especially true later in the life of the membrane.  EPDM is subject to shrinkage as it ages and at the end of its life can shrink up to 4%.  This leads to "bridging" where the membrane once sat and hugged the substrate, it now stretches across like a drum skin. This is when your EPDM roof, and your building, are most vulnerable.  Bridging leads to punctures. Make sure you have your EPDM roof maintained at minimum twice a year by a qualified roofing contractor to spot this condition as the roof ages.
3. Not Pretty To Look At
A black rubber roof is unsightly in certain locations.  Low roofs on apartment buildings or hotels, for example, can be seen by people on higher floors.  In this application, consider white EPDM or digitally patterned PVC.  Also, course the material can be painted over using the acrylic coatings that are designed for the roof. You may be surprised that a little color can go a long way as far as making this material easier on the eyes.
Work with a Reliable Roofing Contractor
If you think EPDM roofing is the best option for you, you'll want to work with a professional roofer that can install it for you. As mentioned previously, this is no DIY project, but a job that requires training and experience to ensure that the material will be long-lasting and leak-free once installed.
The professionals at Reliable Roofing are both trained, experienced, and insured up to $6 million to install this material for you. Serving the Chicagoland area, our professionals are well-versed in repairing, replacing, and maintaining a number of roofing materials for buildings of all types. We can also provide a recommendation of a different material as well as a warranty that may be a better fit for your needs and budget.
For more information or a free estimate on an EPDM roofing installation for your building, contact Reliable Roofing at (815) 981-9898.