Within the commercial roofing industry, PVC roofing materials can offer a substantial amount of protection to the building and its assets. These pros include the following: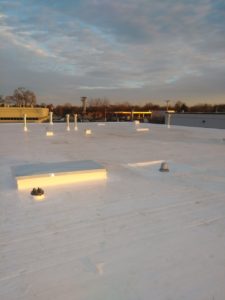 Durability
Resistance to moisture, wind, fire, and chemicals
Long service life
Strength
Water-resistant
Eco-friendly
Cons of PVC Roofing
Cost
Despite the benefits of PVC roofing, these features come at a higher cost. The average cost per sq. foot of roofing can range from $6 to $9.50 for PVC 50 mil membrane installed over a low-slope or flat roof on a single or two-story building.
If you need your old roof removed, this would also be an additional cost.
Pros of PVC Roofing
The greatest advantage of PVC roofing is its strength; these roofs will typically last over 20 years due to their ability to handle a fair amount of weight. The American Society of Testing and Materials (ASTM) requires a roofing membrane to have a minimum weight limit of 200 lbs per square inch. But you shouldn't have to worry about this material as it can surpass holding the weight of 350 lbs.
Durability
One of the features that makes PVC roofing so strong and resistant to moisture is the hot air welded seams; they form a watertight bond that is actually stronger than the material itself.
This feature actually makes PVC roofing one of the most durable materials; others will require adhesives, tapes, and caulks to seal the material together, alternatives that are considerably weaker than the welded seams.
Long Service Life
Due to its strength and durability, PVC roofing will typically have a long service life. One that is installed properly installed and with a few maintenance checks, you can expect it to last around 20 years.
While this material will be costly upfront, you can save thousands of dollars in repairs, maintenance, and even replacement costs in the long run.
Resistance to Chemicals
Some commercial buildings, like warehouses and manufacturing facilities, will have a significant amount of exposure to chemicals. But another advantage of PVC roofing is that it is highly resistant to this kind of damage.
With other materials, such as asphalt and singly-ply roofing membranes, harsh chemicals and toxins can cause considerable damage. So if your building falls into this category, it would be a good idea to invest in PVC roofing.
Resistance to Fire
In addition to chemicals, PVC roofing is also fire-resistant. In fact, they do not support combustion, burn slowly, are difficult to ignite, and even extinguish the fire as long as the source is removed. This has been proven after being tested with FM and UL fires.
Resistance to Wind
Thanks to the hot air welded seams and durability, PVC roofing is also resistant to strong winds. It has also been proven that they have survived Category 3 hurricanes. So regardless if you have a low or high-rise building, they will be able to withstand high wind speeds.
Water-Resistant
With the hot air welded seams, PVC membranes are designed to be watertight, especially during storms and hurricanes. They can also withstand ponding, the condition of water puddling on the roof, as well as high and low alkaline conditions.
They are also resistant to mold, bacteria, and plant roots.
Eco-Friendly
If you're looking to stay eco-friendly, PVC roofing has a number of benefits. It's highly efficient with heating and cooling, reflects the sun, and mitigates the heat island effect in cities. Finally, PVC roofing is also recyclable, even after years of service life.
Investing in PVC Roofing
Despite the hefty costs, the advantages of PVC roofing listed above definitely make it a material worth considering. If any of the following applies to you, this roofing membrane may be your best option:
Your building frequently experiences harsh weather conditions
You are looking to keep maintenance costs to a minimum
Your building is located in an urban area
You are looking for eco-friendly options

Working with a Roofing Contractor
Even if you are still unsure about investing in PVC roofing, a professional roofing contractor can work with you and provide a recommendation about an option that meets both your needs and budget.
One such contractor includes Reliable Roofing, an experienced provider that serves the Chicagoland area and works with the industry's top roofing material manufacturers. We will also make sure that your commercial roof is compliant with all government regulations and is leak-resistant to save you from frequent repairs. Whether you need a full tear off and installation or just installation, you can count on us to get the job done right the first time. After the material is installed, we can work with you to choose a warranty that meets your needs as well as a maintenance program to ensure your roof remains in good condition at all times.
For more information on PVC roofing or a recommendation for your building, give Reliable Roofing a call at (815) 981-9898. We can also provide a free estimate.