Can you get the roof on your commercial or industrial building replaced on the cheap?  You might think so, but be mindful of what corners the contractor is cutting in order to offer you that blazing hot price.  One way some contractors reduce costs, and your price, is to eliminate a manufacturer's warranty.  Why does this reduce costs?  Because reputable manufacturers charge a fee for a decent warranty.  The contractor pays that fee, which can be several thousand dollars.  Cut out the warranty—save the costs. Easy. But does cutting this option really reduce your cost of ownership?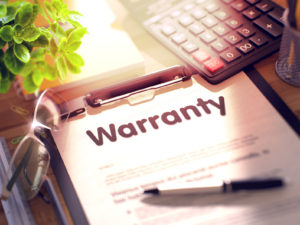 Why Roofers Charge a Fee for a Good Warranty
Commercial roof manufacturers charge the fee because a better warranty covers a broad range of issues and guarantees water tightness.  And unlike steep slope roof systems (think shingles), flat roof manufacturers inspect the completed low slope roof installations before they issue their premium warranties.  When you pay for the manufacturer's warranty, the building owner knows that the flat/low slope roof system was installed correctly because it has passed the manufacturer's inspection.
Two Types of Warranties
Flat roof manufacturers generally offer two types of warranty: a material only warranty and a total system warranty.  Typically, the material only warranty is simply a guarantee that the roofing material was free of defects when it left the factory.  These warranties are free.
A premium total system warranty, on the other hand, covers the entire roof system—not just the part that shows.  A total system warranty covers the roofing membrane, the insulation, the screws, the adhesives, the accessories AND the installation.
A premium warranty also covers the labor to fix defects in any of the components or the installation.  Finally, a premium  warranty guarantees that the roof will be watertight for the length of the warranty.  This is why the warranty is called the "guarantee" in commercial roofing parlance.
Read the Fine Print
Warranties are common for almost every expensive purchase that people make.  They are so common that we expect a warranty.  Of course, we never read the fine print.  We simply expect that the warranty will provide for the repair or replacement of a defective product.  Don't make this mistake with your flat or low slope roof.  Pound for pound, the roof on your commercial or industrial building is one of the most expensive components.  Insist on a premium warranty to protect the roof system that protects your business.
Working with a Roofing Contractor
If you are thinking of getting work done on your roof, then you should contact a professional roofing contractor for roofing services, but be sure to inquire about getting a strong roof warranty. Roofs are an important part of your shelter, and it is in your best interest to get coverage for them to ensure you can keep your roof in quality condition.