Modified bitumen roofing, being asphalt-based, is designed for low slope roofs. "Mod-bit" has been successfully used in the United States for over 40 years.  Its unique properties give it many of the benefits of old-fashioned built-up roofing (think tar and gravel) and some of the convenience of today's single-ply roofing systems.  If you are re-roofing a flat roof, mod-bit should be on your list of options.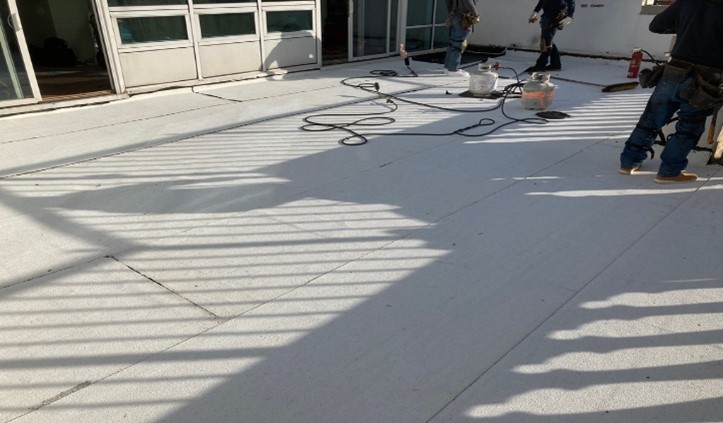 4 Pros of Modified Bitumen Roofing
1. Multiple Plies and greater thickness.
Most modified bitumen systems are installed in at least 2 layers or "plies".  A modified bitumen roofing system is one of the most trusted roof systems because of its inherent thickness.  A 2-ply mod-bit system with a granulated cap sheet is typically 240 MILS thick or more.  On the other hand, a typical single-ply thermoplastic roof membrane is often 60 MILs.  Where membrane thickness is a concern, modified bitumen is winner because of its inherent thickness.
2. Highly durable in high traffic areas.
If your low slope roof gets a lot of traffic, modified bitumen should be on your short list of membranes.  Because it is a more traditional roof membrane applied in multiple layers, it stands up to foot traffic very well.  While no roof membrane should serve as a patio or a work platform, the reality is people often treat flat roofs like a deck.  With a granulated cap sheet, modified has a better chance of standing up to foot traffic than other systems.
3. Easy to work with in tight spaces.
Modified bitumen is a workhorse in cities because it generally comes in 36-39" rolls.  This makes it easy to maneuver compared to the 10' to 12' rolls of thermoplastics.    If you have to re-roof a tight space, such as a balcony or city 3-flat rooftop, modified bitumen can be hard to beat.
4. Compatible with asphalt-based roofing compounds.
This one sounds strange, but most maintenance personnel have no idea what products are compatible with which roof systems.  The typical building engineer reaches for "wet patch" or "roofing cement" when he or she tries to patch that emergency leak.  Those products are often not compatible with single-ply systems, but they are often formulated for asphalt-based systems like modified bitumen.  While it sounds simplistic, the modified bitumen roof usually works well with off-the-shelf roof repair products.
4 Cons of Modified Bitumen Roofing
1. Absorbs heat in summer
As with all products, a modified bitumen roofing system comes with its own set of unique disadvantages. A modified bitumen roofing membrane may be black in color, or only minimally reflective. The rooftop's dark color attracts and absorbs heat from the sun—rather than reflecting it away from the building.
However, black is not the only color option for modified bitumen roofing systems. Colors range from black to sienna to white. When choosing a lighter color roofing material, the roof will absorb less heat.  Many manufacturers also offer highly reflective modified bitumen cap sheets which come close to the reflectivity of white thermoplastics.
2. The most common application methods are still higher risk than single-ply systems
The most common modified bitumen adhesion method is "torch down".  This means using a propane-fueled, high BTU roofing torch to heat the back of the membrane and adhere it to the substrate.  The industry has moved away from high-heat application methods over the past 3 decades.  The old school tar kettle is a rare site these days.  As a result of the inherent risks with high heat application, roofers should be CERTA trained and highly skilled in working with modified bitumen systems.
3. Mod bit can be more expensive
While re-covering an existing modified roof with a single-ply mod-bit cap sheet is very cost-effective, installing more than one ply drives up cost quickly.  When installing a two- and three-ply system, one is effectively roofing the roof 2 or 3 times.  Speed of installation is an area where thermoplastics really shine.  Multi-ply mod-bit systems are significantly more expensive on large roofs.
4. More vulnerable to ponding than thermo plastics
Buildings with roofs that tend to hold rainwater or melting snow will become worn sooner when a modified bitumen roofing system is installed. Puddles and standing water that develop after rainstorms can cause serious damage to and prematurely age a modified bitumen roofing system if that water does not properly drain.  Ideally, water drains from a roof after 48 hours under reasonable drying conditions.  Older roofs often lack good drainage.  Modified bitumen plies and seams do not handle standing water as well as their thermoplastic counter-parts.
Conclusion
When correctly installed and properly maintained, a modified bitumen roof will be a building's most durable asset. We recommend 2- or 3-ply systems under roof top patios and decks or in very tight spaces.  Cold-adhesive applications and self-adhered plies are newer to the market and offer many benefits.  With regular advancement in materials and adhesives, modified bitumen roof systems will be a roofing mainstay for decades to come.
Work with Reliable Roofing
When you are considering a modified bitumen roofing system for its many advantages, consult Reliable Roofing for premium roof replacement services. Our knowledgeable commercial roofers will help you decide if a modified bitumen roofing membrane will meet your building's needs.
While a modified bitumen roofing system is an ideal roofing option, facility managers should be aware that components can also be used for repairs on existing built-up roofs. Our experienced roofing contractors will ensure the product is installed correctly and efficiently.
A critical part of installing this roofing system is the insulation. Reliable Roofing crews ensure adequate insulation is installed so that the modified bitumen roofing system performs optimally. We also follow all manufacturer's instructions so that your building remains protected from leaks and damage.
Roofers at Reliable Roofing excel at roof repairs, maintenance, inspections and replacement. While servicing roofs is our primary service, we are also equipped to install roof equipment, such as flashing, HVAC equipment and exhaust fans. We facilitate waterproofing or sealing various equipment.
When you aim to install, maintain or inspect a modified bitumen roofing system, count on Reliable Roofing for our expertise, superior knowledge of roofing products and quality workmanship. We are proud to successfully serve commercial businesses in and around Chicago, Illinois.
Contact Us
Call us at (815) 981-9898 or fill out a contact form for details.