Commercial flat roofs are economical and convenient. Flat roofs are found on all varieties of commercial structures, such as warehouses, factories, retail stores, apartment buildings and even schools.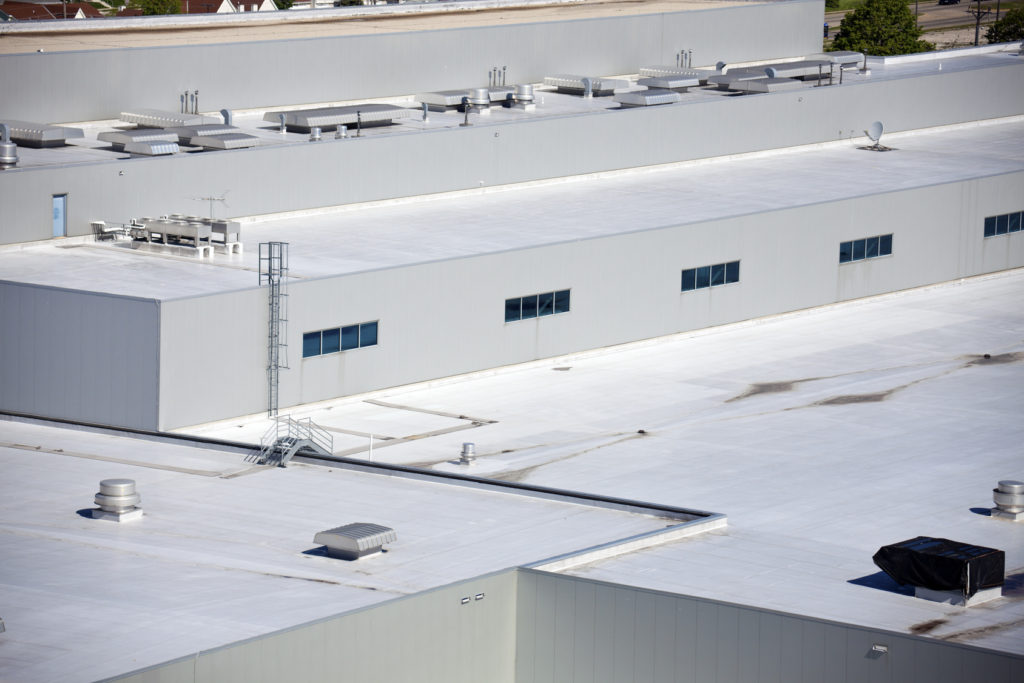 Flat roofs function with very little slope, and roof insulation is crucial. The type of insulation makes a substantial difference when it comes to energy-savings, water intrusions and its accompanying roof rotting. Since insulating a flat roof can eat up one-quarter of the total cost of the roof installation, property managers should carefully choose the best kind of insulation to meet their roofing needs.
Use high-quality insulation
Skimping on insulation costs is highly discouraged by industry experts. Saving a few hundred dollars on insulation at the outset can potentially lead to extremely costly repairs in the future. A flat roof insulated with poor materials will spur multiple problems.
Low-quality insulation decreases the service lifespan of a functional roof. A clear lack of energy efficiency will drive heating and cooling costs through the roof. Additionally, interior temperatures will fluctuate and may be uncomfortable for employees working inside the building.
Roofing professionals emphasize that the choice of flat roof insulation should feature the appropriate R-value. The most expensive and highly recommended insulation is Polyisocyanurate (Polyiso) rigid foam. Extruded Polystyrene (XPS) is also an optimal choice, along with Expanded Polystyrene (EPS).
What is Polyiso insulation?
Polyiso is a commercial roofing insulation. The insulation boards, consisting of closed cell foam, come in thicknesses ranging from one inch to four inches. The boards typically are sized to be four feet by four feet or four feet by eight feet. Polyiso is installed under the roofing membrane.
Polyiso boards can be either tapered or flat. The tapered Polyiso boards are sloped. The boards' angles direct water toward a drain, thereby efficiently preventing rainwater from standing along the roof or its corners. Flat Polyiso boards are installed on low slope roofs and direct water toward the gutter.
What are the benefits of Polyiso insulation?
Especially in warmer climates, Polyiso insulation is highly efficient. This prime insulation type is best when weather conditions are ideally temperate. In extremely cold climates, Polyiso insulation fails to fully insulate. Consult a roofing contractor for recommended insulations designed for colder temperatures.
The water absorption rate of Polyiso insulation is remarkably high, at one to two percent. In comparison to the two other leading insulation types, Polyiso allows the least amount of water intrusion. Polyiso insulation cell structures are sized and shaped irregularly, allowing its high-water absorption rate.
What is Extruded Polystyrene (XPS) insulation?
Extruded Polystyrene (XPS) insulation is a foam plastic roofing insulation. XPS insulation is ideal when high water resistance capabilities and high thermal resistance to moisture are sought after. This type of roofing insulation is best when higher compressive strength is required.
What are the benefits of XPS insulation?
When XPS insulation material is totally immersed in water, its water absorption rate is 0.3 percent. The closed-cell structure of XPS insulation makes it highly resistant to moisture. XPS roofing insulation complies with ASTM C578, a primary reference standard for polystyrene insulations.
XPS insulation is often utilized under a variety of single ply roofing membranes. In such instances, cover boards must be installed to prevent exposure to solar heat. Due to heat absorption and the maximum temperatures XPS insulation can endure, this insulation type is discouraged under black metal roofing.
Additional benefits of XPS include its reusability after roof leaks are repaired. When insulation is considered reusable, the amount of tear-off materials that go into landfills is reduced. The XPS insulation also retains its R-value and energy saving capacity even after exposure to water.
What is Expanded Polystyrene (EPS) insulation?
Expanded Polystyrene insulation boards feature closed cell structures in which voids enclose the beads; these structures are also hydrophobic. EPS insulation, as a result, has a high water absorption rate. In comparison to XPS insulation, EPS insulation features lower thermal resistance.
What are the benefits of EPS insulation?
Lightweight and rigid, EPS insulation can be cut for precise installation between the varying dimensions of roofing trusses. EPS insulation may be combined with other insulation materials to achieve the creation of tapers and the appropriate R-value. EPS insulation serves as additional insulation for existing roofs.
With lower costs per R-value in comparison with other insulation materials, EPS insulation offers a consistent R-value over the life of the roof. EPS insulation is versatile and is compatible with a variety of roofing systems, such as ballasted, fully adhered and mechanically fastened ones.
When it is important to incorporate energy saving tactics into a commercial roof, the above-mentioned insulation types plus a high R-value can reduce heating and cooling expenses by 30 percent annually. Through energy savings, in four to six years, property owners recoup the cost of installing high-quality insulation.
Minimize roof rot by installing the right insulation, like Polyiso or XPS. The excellent moisture repelling characteristic of these insulation types keeps the roof dry, even without a functional ventilation system. Professional roofers suggest at least six inches of foam insulation board to sustain dryness during cool months.
Dark roofs with a low R-value, especially, trap hot air in the scorching summer months, leading to unbearable interior temperatures. Indoor temperature fluctuations can be remedied by installing a high-quality roofing insulation, like any of the options mentioned above.
Work with a Commercial Roofer

When your commercial roof requires service, contact northern Illinois' most trusted roofing contractor, Reliable Roofing. The contractors at Reliable Roofing offer comprehensive roofing services, including flat roof repair and installation, roof inspections, roof maintenance, and roof replacement.
The professional roofers at Reliable Roofing provide a pre-inspection service, precision installation using high-quality materials and a final inspection to ensure the completed job is top-notch. A roof serviced by Reliable Roofing is guaranteed to endure. We also offer maintenance programs to sustain the life of your commercial roof. A speedy 24-hour service is provided for roof maintenance customers.
Reliable Roofing serves the business communities of Lake Zurich, Chicago, and the northern suburbs. Businesses turn to Reliable Roofing knowing our extensive industry experience and commitment to quality ensure countless satisfied customers.
Free Estimate
For a free estimate on your next roofing or insulation service, contact Reliable Roofing at (815) 981-9898.