Roof Maintenance in Northbrook, IL
Local experts.
It's understandable that commercial property owners shy away from the thought of purchasing a new roof. But without frequent maintenance and inspections, that time will come sooner than later for any commercial building.
When investing in proper roof maintenance for your building, you can ensure that any sign of damage or weakened areas will be found and repaired before any problems occur. But it's important to work with a licensed roofing contractor as it requires training and experience to find these problematic areas.
Commercial Roofers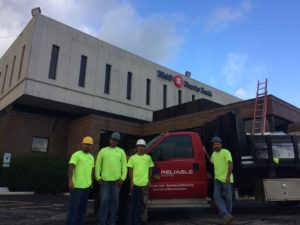 Reliable Roofing is available in Northbrook, IL to provide professional roof maintenance services for commercial buildings of all types and sizes. Each of our technicians is insured and experienced to provide the peace of mind you need when it comes to keeping your roof in its best condition. Located in the Chicago suburbs, we proudly serve the metropolitan area with a number of commercial roofing services, including roof repair, inspection, replacement, restoration, maintenance, and more.
Reliable Roofing is a proud member of the National Roofing Contractors Association (NRCA), allowing us to stay updated on the latest trends in the industry. We also keep our technicians insured up to $6 million, protecting your company throughout the service.
Roof Maintenance Northbrook, IL
After years of experience, we have been able to perfect our roof maintenance service, following the steps listed below:
Detailed inspection
Replacement timeline
Repair and replacement cost analysis
Review of manufacturer's warranty
Documentation of services
Detailed Inspection
As often as necessary, our professionals will provide detailed inspections to identify any weakened areas before they develop leaks. We will also provide a list of recommended repairs, equipment installation, or full replacement of the commercial roof. While not all services may be necessary right away, you will know what to expect during future visits.
Replacement Timeline
The number of years before your building is due for roof replacement will vary depending on the condition and current type of roofing system installed. After the detailed inspection, we will assess the damages and materials to determine when it is recommended for replacement as well as a new manufacturer's warranty. This way you will know exactly how much time is left with your current system, allowing you to prepare for your next investment.
Roof Repair and Replacement Cost Analysis
After the initial inspection, our technicians will provide you with a detailed report of services and costs, along with recommendations for specific repairs or replacement. If replacement is necessary, Reliable Roofing will recommend a new system that meets your needs and budget while providing you with a number of manufacturer's warranty options to keep your investment protected.
Manufacturer's Warranty
Reliable Roofing will honor all terms and conditions explained in each manufacturer's warranty. We can also offer a number of different warranty options after replacing your current system, allowing you to save on future inspection, maintenance, and repair costs, should any unforeseen damage occur.
Documentation of Services
Included within our services, our professionals will document the details of each service, the date of the visit, and recommendations regarding the condition of your current roofing system. We will provide you with a copy of these records as well as keep them on file. They will also keep future services efficient as we will be able to identify and repair problematic areas right away, instead of inspecting the system again.
Get a Free Quote
The greatest benefit provided by a roof maintenance services is that it prolongs the lifespan of your current roofing system, allowing you to save money in the long run.
For more information or a free estimate on our roof maintenance services, contact Reliable Roofing at (815) 981-9898. 
---
Related Roof Maintenance Services:
Roof Maintenance Lake Zurich, IL
Roof Maintenance Skokie, IL
Roof Repair Northbrook, IL
Roof Restoration Chicago, IL
---
Review by Craig
Reliable Roofing
Rating 5

"I want to thank you and to let you know that it was a pleasure to work with the service crew that came out to repair our roof. They were on time, honest and did a great job, the office was upfront and professional. I will make sure that all my friends and neighbors know about Reliable Roofing."